EVENT:
---
---
100th ANNIVERSARY of
WICHITA AVIATION
ESTABLISHED by
PANEL of HISTORIANS


WICHITA, Sat., August 30th - Sept.16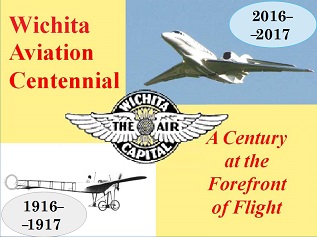 The Wichita Aviation Centennial begins with the 100th Anniversary of Wichita Aviation.
Over the course of the last week of August and the first two weeks of September, a panel of historians -- aviation historians, local historians, and local aviation historians -- reviewed the historical record, at the instigation of one of their number, to determine the actual date of the 100th Anniversary of Wichita Aviation.
The panelists included:
Richard Harris, former Chairman of the Kansas Aviation Centennial, and Kansas History Speaker for the Kansas 150 Sequicentennial;
Walt House, former Chief Historian & Curator, and current Board Member of the Kansas Aviation Museum;
Prof. Jay Price, Public & Local History Director, History Dept., Wichita State University and Member, National Council on Public History
Carl Chance, Editor, WingsOverKansas.com, (the principal online reference on Wichita Aviation History), and former Board Member of the Kansas Aviation Museum;
C. Hayden Hamilton, aviation historian and Managing Editor of History Publications, American Aviation Historical Society.
Col. Walter J. Boyne, USAF (ret'd), aviation historian, former Director of the National Air & Space Museum, and former Chairman of the Board of the National Aeronautic Association.
Criteria used included:
What constituted "Wichita Aviation" -- in the classical sense of the word, as substantial community effort?

When did this type of effort begin to happen in Wichita?

What is the credibility of the evidence?
Initial discussions supported the idea that the relocation to Wichita of Clyde Cessna and his aviation enterprise, in the fall of 1916, was the start of "aviation" in Wichita.
Six alternative Wichita aviation milestones put that proposed "Centennial" date into question. Here are explanations for their non-selection, as offered by panelist Richard Harris:
) Wichita had aviation activity before Cessna.

Historians generally concluded that most such activity was trivial, personal and/or sporting, rather than earnest commercial efforts towards making Wichita an aviation center, and much of it was transient activity, rather than local.

By comparison, Clyde Cessna's enterprises, began to be operated (at least partly) in Wichita by September, 1916, with substantial community support and encouragement, aimed at developing a long-term Cessna operation in Wichita, and, as a result, shortly thereafter, that Cessna Wichita activity became firmly based in Wichita, with substantial Wichita community involvement.

) Wichita had local balloon activity before Cessna and other airplane activity.

The benchmark for aviation centennials, in the United States, has generally been regarded as the U.S. Centennial of Flight, established by the Congressionally established U.S. Centennial of Flight Commission (which included the Smithsonian Institution, NASA, FAA, EAA, and other expert organizations), which dates "flight" and "aviation" as functionally originating with the first flight of a controlled, heavier-than-air, powered airplane.

That date is traditionally regarded as the date of the Wright Brothers first airplane "flight" -- their four short hops, ending in crashes, in their "Wright Flyer," December 17, 1903 -- despite the fact that many people had flown controlled, heavier-than-air gliders before that -- not to mention "lighter-than-air" craft: blimps, dirigibles and balloons, some dating to over a hundred years before the Wrights.

The traditional argument is something along the lines that man was not truly able to "aviate" -- to choose his path through the sky, and his ultimate destination, with any significant control -- until the advent of the airplane. Accordingly, Wichita's balloon activity (and the visiting Knabenshue "airship" which never really flew successfully in Wichita, before Cessna) do not constitute "aviation" in the classical sense.

) Wichita had local airplane activity before Cessna.

That activity had been transient aircraft (including his own, visiting earlier), and were there to briefly exploit the community, then move on. Cessna's aviation enterprise was the first to become a part of Wichita.

) Wichita did not begin the "mass-production" of aircraft until 1920, through the E.M. Laird Company, co-founded by Chicagoan E.M. "Matty" Laird, and former Oklahomans Billy Burke and Jake Mollendick.

Though Cessna's aircraft production in Wichita was very limited, and only for his own use -- the planes were manufactured for commercial aviation uses (exhibition flying, aerial advertising and other promotions, and flight training).

And it should be recalled that building even one or two airplanes was considered a notable enterprise, in the U.S., in 1916, when the nation's aircraft development was moving at a snail's pace.

And Cessna's aviation activity was more than buildling planes, but included the aforementioned activity -- all of which constitute commercial "aviation" activity. "Wichita aviation" has always been more than just aircraft manufacturing, and the the scope of Cessna's commercial aviation activity in Wichita reflects that.

Further, of course, is the U.S. Centennial of Flight, not dated from the Wright Brothers' (very limited) mass production, nor even their first public flight, but from their first flight in an airplane. Cessna's September, 1916 arrival in Wichita involved far more "aviation" than that.

) "Wichitans" per se, did not begin aircraft production until the departure of E.M. Laird and his buddy Buck Weaver, returning to Chicago, and the renaming of the Wichita company "Swallow Airplane Co.," under the management of former Laird partner and Oklahoman Jake Mollendick, with Kentuckian Walter Beech and Kingman County Kansan Lloyd Stearman.

While those who "remained behind" (including Laird's and Weaver's brothers) settled in Wichita (at least for a time) and became "Wichitans" -- and formed the backbone of Swallow -- its forerunner, the E.M. Laird company, had always had "Wichitans" (as thereafter defined) among its personnel, even if only Jake Mollendick.

Though the earlier Laird enterprise can be said to have manufactured a "Chicago" design (the "Laird Swallow" designed by Matty Laird), and the later "Swallow" company said to have produced the "first WICHITA design" (the "New Swallow" designed by Lloyd Stearman), that nevertheless does not diminish the fact that Wichitans had been involved, (and, in the case of Jake Mollendick, even sometimes managed), the original Laird operation.

And in any case, Cessna had operated the first true "aviation" enterprises in Wichita.
The September, 1916, beginnings of Cessna's permanent commercial operation in Wichita -- prior to 1918 shutdown forced by U.S. entry into World War II -- was the first substantial "aviation" enterprise based in Wichita, and the first such enterprise solicited and supported by the community, and involved with the community.
HENCE:
September, 1916 is
the start of Wichita aviation,
and...
September 2016 is the
100th Anniversary of Wichita Aviation
--and the appropriate starting point of the Wichita Aviation Centennial.
.

Return to the EVENTS & NEWS PAGE
---
FOR MORE INFORMATION

, contact the:
Wichita Aviation Centennial Committee
Richard Harris, Chariman,
(316) 371-9079
office@ks100aviation.org

---