ABOUT WAC
---
Starting in September, 2016 (Wichita Aviation's 100th Anniversary Month), the Wichita Aviation Centennial is a year-long, commemoration of the city's most spectacular and legendary major industry.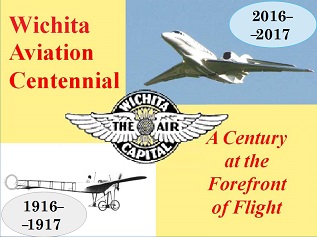 The Centennial Committee organizes, conducts, and supports activities and projects that spread the knowledge, appreciation and understanding of Wichita aviation and its history.
To commemorate this nearly-overlooked major milestone in Wichita progress, a group of Wichita historians and aviation experts (chiefly in the Wichita area), joined together, on relatively short notice, to produce the Wichita Aviation Centennial.
But we can't do it alone.
Your participation and support is needed to bring alive the past -- and illuminate the future -- of the high-tech industry that makes Wichita famous around the globe.
Join the Centennial Boosters, participate in Centennial Events, and share the story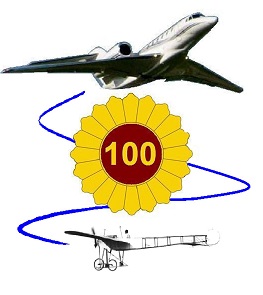 of Wichita's leading role in the world's most dynamic industry.
Opportunities for volunteers abound, and additional Centennial Committee members are being recruited. The Centennial depends upon community support. Please contribute to the cause.
---
The Wichita Aviation Centennial Committee
* =
also Member of the WACC Panel of Historians
Acting Chairman:
Richard Harris *
Member/Contributing Historian,
American Aviation Historical Society
former Chairman,
Kansas Aviation Centennial
former Kansas Aviation History Speaaker,
Kansas Humanities Council
for the Kansas 150 Sesquicentennial
Certified Aeronautics Instructor
Wichita
---
WACC non-members,
on the WACC Panel of Historians:
Walt House *
Member, Board of Directors.
& Former Curator & Historian
Kansas Aviation Museum
(Smithsonian Institution affiliate)
Wichita
Jay Price, Ph.D. *
Director of Public History
Wichita State University
Member, Board of Directors,
Kansas Humanities Council
Member, Nat'l Council on Public History
Wichita
Carl Chance *
Editor & Contributing Historian
WingsOverKansas.com
Former Member, Board of Directors.
Kansas Aviation Museum
(Smithsonian Institution affiliate)
Wichita
Col. Walter J. Boyne,* USAF (Ret'd)
Doctor of Aerospace Sciences
Former Chairman of the Board,
The National Aeronautic Association
Former Museum Director & Curator,
The National Air & Space Museum,
Smithsonian Institution,
Washington, D.C.
C. Hayden Hamilton *
Managing Editor, History Publications
American Aviation Historical Society
Huntington Beach, Calif.
Molly McMillin *
Editor, The Weekly of Business Aviation
Business Aviation Editor,
Aviation Week Intelligence Network
Former Senior Aerospace Writer,
The Wichita Eagle & Beacon
Wichita
Join us in celebrating
a Century of Kansas Aviation!