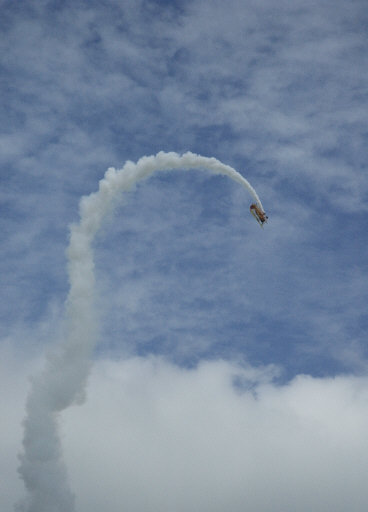 KANSAS
AIRSHOWS, AVIATION FESTIVALS, EXHIBITIONS, FLY-INs & CONVENTIONS

Kansas Aviation Events, including Air Shows, Air Festivals, Fly-Ins, Aviation Conventions and other public events.


NOTE: This is a DRAFT page, added in 2014, for general reference (these topics were previously covered on the "EVENTS/NEWS" page, and more details on these items may appear there from time to time).


A few website links are not yet active. The following listings are not complete. Any suggestions or additional listing information should be forwarded to Kansas Aviation Centennial at one of the contacts on our CONTACT US page. Please include a way to contact you or the reported site.
---
The following list of events is a rough list of seasonal aviation events, repeated annually (although not in all years, and not always at the same time or place).

The following map depicts Kansas Aviation Museums, and various Related Museums, Memorials & Monuments, associated with many of these aviation events, to help you locate the towns & sites listed below. To enlarge, click on the map. For information on the sites marked, read the following text.
---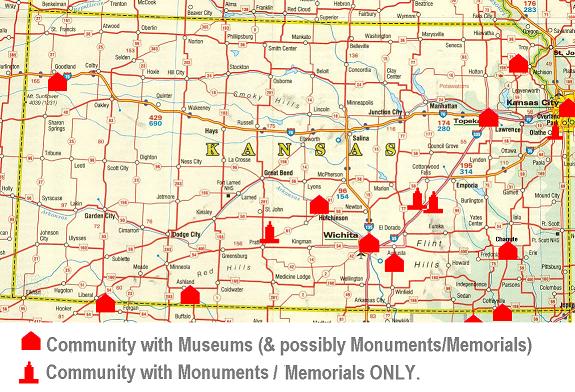 ---
---
---
WESTERN KANSAS:
---
---
---
LIBERAL:
---
---
SEPTEMBER:
LOCATION(s):
Liberal Mid-America Regional Airport
Medium-sized regional airshow in southwest Kansas, typically including vintage military aircraft on static display and in flight -- with exhibits at the adjacent huge Mid-America Air Museum (see below).
Affiliated with:
Mid-America Air Museum
One of the largest aviation museums & historic aircraft collections in the United States. Over 100 aircraft -- some historic, many Kansas-related -- from vintage antiques, to WWII combat aircraft, to modern military jets, plus many private aircraft of all sizes.
(More info: CLICK HERE or HERE or HERE or HERE or HERE .)
---
---
KINGMAN:
---
---
MAY/JUNE
or
OCTOBER:
Kingman Fly-In & Airshow, OR
Kingman Air and Auto Show, OR
Peterson Krier Airshow
LOCATION(s):
Kingman Airport
Near the boyhood homes of aviation legends Clyde Cessna (barnstormer & planemaker), Lloyd Stearman (planemaker) and Hal Krier (aerobatic champion)

---
---
SCOTT CITY:
---
---
AUGUST/SEPTEMBER:
Showdown on the Plains:
BBQ & Air Show
LOCATION(s):
Scott City Municipal Airport
Barbeque feast and airshow in Scott City (far west-central Kansas, near Kansas' most scenic canyon.)

---
---
---
NORTH-CENTRAL KANSAS:
---
---
---
GREAT BEND:
---
---
SEPTEMBER: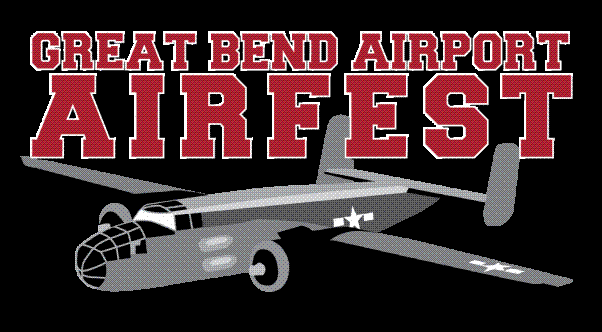 Great Bend Air Festival

Bikes, Bombers & Butterflies Weekend

LOCATION:
Great Bend Airport
Three-day aishow, fly-in and festival held on a central-Kansas airport that was originally a military air base for training World War II bomber crews -- often hosts a wide range of World War II aircraft... with the exceptional option of purchasing RIDES (at a high price) in many of them, plus more "affordable" quick hops in helicopters or light planes. Plane tours, hob-nobbing with pilots, performances, exhibits, food, live music, dancing, fireworks, and more!
Part of Great Bend's annual "Bikes, Bombers & Butterflies" multi-event weekend, which includes the "Big Bend Bike Rally," and the "Mad about Monarchs" butterfly project (which involves visitors in the annual mass of Monarch butterflies migrating through the area).
TYPICAL HIGHLIGHTS:
Fly-in of historic World War II and other vintage aircraft
General Aviation fly-in (20-50 light planes)
Display of local-based aircraft
Stunt parachute-jumper
Learn-to-Fly Introductory Flights, Seminars & Promotions
For More Information:
---
---
---
JUNCTION CITY:
---
---
JUNE: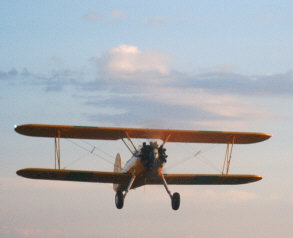 LOCATION(s):
Freeman Field, Junction City
Formerly the National Fly-In for the Biplane Association of America, a leading club for owner/operators of vintage, acrobatic and homebuilt biplanes, and now led by Flint Hills Chapter of the EAA. Dozens of biplanes and others (including some very rare and exotic biplanes, triplanes and monoplanes) are flown there every year, from around the Central U.S., including several vintage biplanes built in Kansas.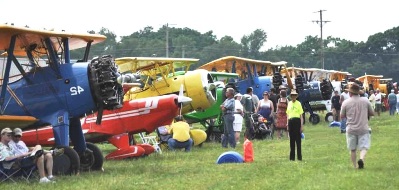 Aircraft are only on static display, and seen in flight coming and going, and occassionally doing fly-bys, but there are no aerial exhibitions or stunts (no aerobatics). Open to the public, but most of the planes take off on Saturday for several hours to a remote airfield for a private gathering, before returning to the airport. A few exhibits and vendors, and usually an announcer. Affordable food on site. Little or no admission charge.
---
---
---
SOUTH-CENTRAL KANSAS:
---
---
---
WICHITA:
---
JANUARY: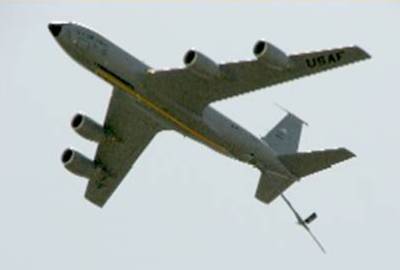 Piatt Street Crash Commemoration

LOCATION(s):
Piatt Street Crash Site Memorial & Park, in north-central Wichita, at 20th & Piatt Streets, one block SW of Hydraulic & 21st St. North.
Annual remembrance ceremony at the site of Kansas' largest-non-natural disaster -- a fiery 1965 crash of an Air Force KC-135 jet tanker that claimed 30 lives, destroying a city block. Commonly includes Patriot Guard motorcycles and flags, military honor guards, speeches by dignitaries, and reflections by survivors.


---
AUGUST/SEPTEMBER: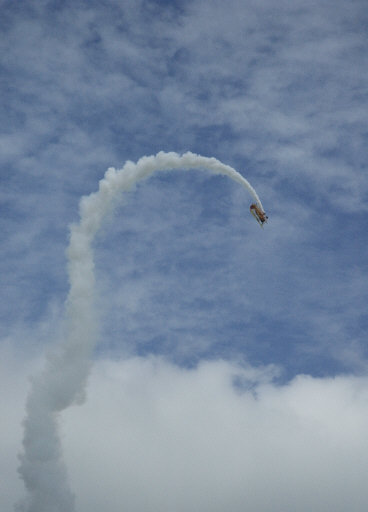 Wichita Flight Festival,
or
Kansas Flight Festival,
or
McConnell Air Force Base Air Show
sponsored, in part, by the:
U.S. Air Force (McConnell AFB, Wichita)
City of Wichita,
Sedgwick County
Kansas Aviation Museum

LOCATION(s):
Jabara Airport (N.E. corner of city)
OR
McConnell Air Force Base
(S.E. corner of city,
next to Kansas Aviation Museum),
Usually the state's biggest air show & aviation festival. Sometimes held jointly by the city (civilian) and Air Force (military), but sometimes held separately.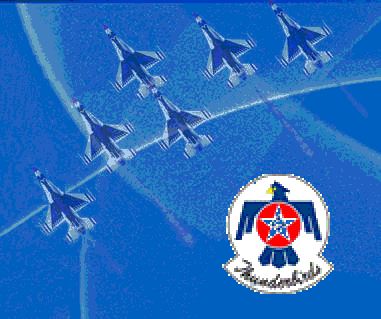 Typically a 3-day event, Fri.-Sun., with major-name airshow acts, and usually some military exhibitions, and large static displays of aircraft (large military aircraft displays only at McConnell AFB events, which usually include military jet demonstrations).
If event is at Jabara airport, it is also likely to include (expensive) helicopter and/or airplane rides. Historic and other exhibits in large hangar. Usually free, if at McConnell, or under $10 if at Jabara.


---
OCTOBER:
sponsored by the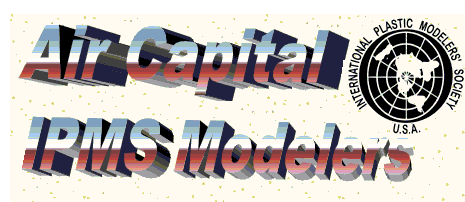 Air Capital Chapter
of the
International Plastic
Modelers' Society
(Wichita)
A dazzling array of superb plastic scale models -- mostly aircaft and military vehicles -- with prizes for top honors (may be open to non-members), attracting contestants from all over the state. Sometimes has exceptional guest speakers or aviation venues.
---
---
---
COTTONWOOD FALLS / MATFIELD GREEN AREA:
---
MARCH/APRIL:
Knute Rockne / TWA Flight 599 Plane Crash Commemoration (2 sites) For the history, CLICK HERE
- Crash Site - near Bazaar (south of Cottonwood Falls)
- Bazaar Schoolhouse
(in Bazaar, near the crashsite.; indoors)
Usually around March 31st, every 5 years, from the date of the historic 1931 crash (on the first and sixth years of every decade), a memorial gathering and ceremony is held at the site of the crash (at the Knute Rockne / TWA Flight 599 memorial site).
Open to the public, it is mostly attended by descendants of the victims and locals (the last eyewitness died before the 2006 event), and minor sports dignitaries, and by fans of Knute Rockne -- particularly Notre Dame fans and alumni. After the crash site ceremony, a banquet (modest admission charged) is held in a nearby school, where speeches are made and stories told.
---
---
---
---
NORTHEAST KANSAS
/NORTHWEST MISSOURI:
---
---
---
TOPEKA:
---
JULY/AUGUST:

Gathering of Warbirds & Legends

LOCATION:
Forbes Field airport
(South end of city),
...which also houses:

Medium-sized to large airshow, usually with a major-name civilian airshow act, and vintage and modern military aircraft flight demonstrations, sizeable static displays; adjacent to the Combat Air Museum.
---
---
---
OLATHE / NEW CENTURY:
---
---
AUGUST/SEPTEMBER:
sponsored, in part, by the:
CAF Heart of America Wing
- Commemorative Air Force

LOCATION:
New Century Airport
------------------------------------
---
KANSAS CITY (Missouri):
---
---
AUGUST/SEPTEMBER:
Kansas City Aviation Expo Air Show
LOCATION(s):
Kansas City Downtown Airport
(Wheeler Downtown Airport)
sponsored by:
Mid-America Youth Aviation Association
contact at: kcairshowvol@att.net
Public Relations contact: Herb Gillen
Large airshow, when held (was cancelled in 2012, 2013, 2014 due to lack of support, government budget cuts, federal budget sequester, 2011 airshow plane crash, and other issues). Military & civilian airshow performances and static displays. Scheduled to reopen Aug.22-23, 2015, with U.S. Navy Blue Angels.

---
On the same airport as the:

National Airline History Museum
On west side of Downtown Airport, Kansas City, Missouri. Originally TWA museum, with extensive TWA artifact collection, including giant triple-tailed Lockheed Constellation propliner and other aircraft. Now attempts to cover whole commercial aviation industry. Guided tours.
(for additional info, CLICK HERE or HERE
.)
---
---
---
---
---
MAJOR NATIONAL AVIATION EVENTS
with significant displays/exhibits/demonstrations of
Kansas aviation history information, exhibits, artifacts and/or aircraft.
---
---
OSHKOSH, WISCONSIN AREA:
---
JULY/AUGUST:
EAA AirVenture Airshow & Fly-In LOCATION:
Wittman Field
sponsored by the:
Experimental Aircraft Assn.
The world's largest "fly-in" and airshow, typically attended by well over 100,000 people, usuallly with thousands of light planes, and hundreds of other aircraft of every description, a week-long event with almost every major airshow act in the U.S., some foreign acts (including military demonstration teams from U.S. and other countries), vintage / warbird aircraft fly-bys, and dozens of spectacular aerial acts and flight demonstrations.
Entire sections of the vast airfield are dedicated to specific brands of Kansas aircraft, past and present, with dozens to hundreds of them in each section, accompanied by their proud owners. Seminars on these and other aircraft, technology and history.
Huge aviation shopping venue. Camping onsite for visting airplanes, but other overnight accommodations require advance reservations and careful planning and preparation.
Adjacent to:
EAA - AirVenture Museum
Experimental Aircraft Association
Master Aircraft List Includes rare Kansas-area aircraft: Swallow OX5, Travel Air 2000 & E-4000, Rearwin, Nicholas-Beazley, Corben, Culver, Funk, Bede BD-5, Cessna CG-2 glider (and common 150H & 210), plus military & commercial aircraft used in Kansas.


---
---
SEATTLE, WASHINGTON AREA:
---
---
JULY/AUGUST:
LOCATION(s):
Lake Washington
and
Boeing Field
Major regional airshow and water show of the Pacific Northwest, sponsored in part by the City of Seattle, Boeing, and the U.S. Navy. Combines aerial performances with speedboat races and fireworks -- all over Lake Washington -- with exhibits at Boeing Field & Museum of Flight, and elsewhere.
Often emphasizes Boeing planes (many built partially or entirely at the former Boeing factory in Wichita, Kansas, or by Seattle-area workers transplanted from Kansas).
Usually includes the U.S. Navy Blue Angels military jet demonstration team, in one of their biggest and most spectacular performances of the year.
Affiliated with:
Museum of Flight - Boeing Field
One of the world's top aerospace museums, includes many Boeing aircraft (on Boeing Field, with original Boeing "red barn" factory part of tour), plus many other Kansas-connected aircraft, from famous Swallow mailplane to Cessna CG-2 glider, to fighter jets. SR-71, biplanes, propliners, flying car, AirForce1 -- some aircraft open to visitors.

---
---
---
---
Join us in celebrating
a Century of Kansas Aviation!