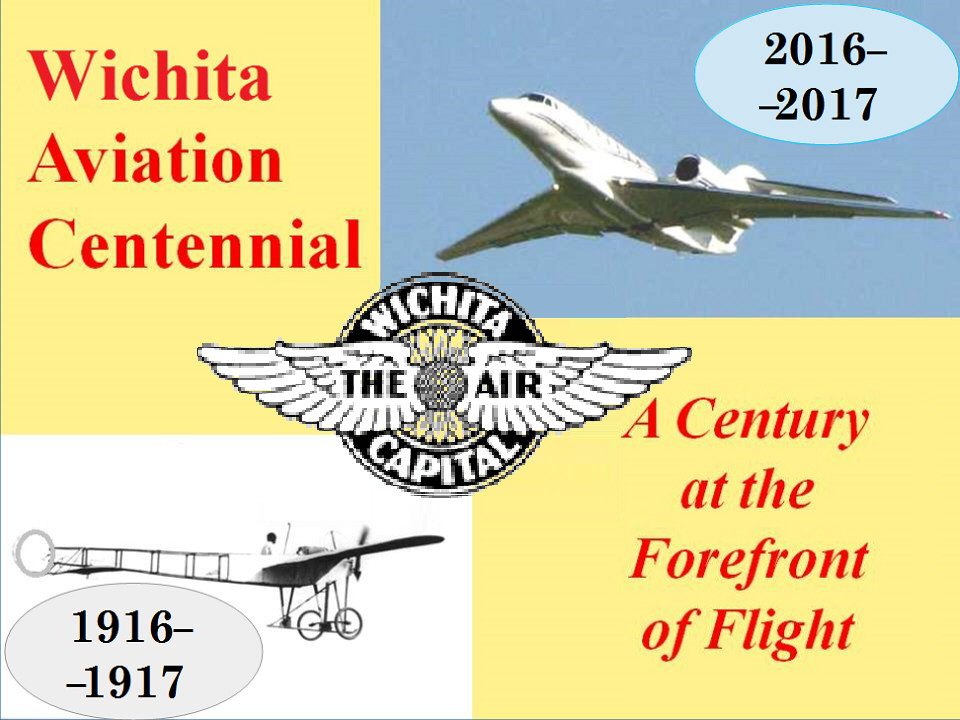 KANSAS AVIATION HISTORY MILESTONES
Events of national or international significance, in Kansas aviation, and major changes in Kansas aviation.
---
1911 - 1st successful Kansas airplane & aviator:  Albin K. Longren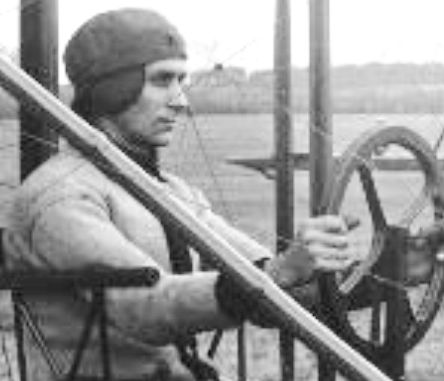 in "Topeka I" - a Curtiss Pusher replica (Topeka). Unlike most other self-taught U.S. aviators, building their own planes, Longrens' flights are successful and prolonged from the start -- with several flights in front of witnesses in the first week of September, 1911. Longren soon becomes a pioneer U.S. innovator in airplane manufacturing technology.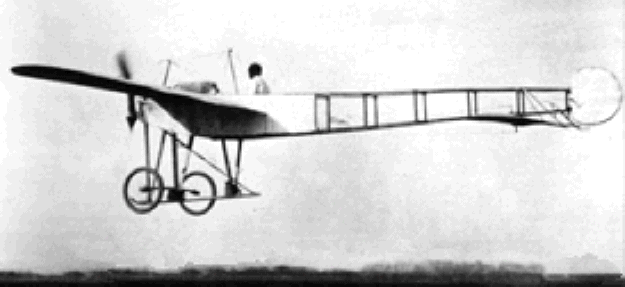 1911/1912 - Clyde Cessna begins flying planes of his own creation -- starting in Oklahoma in 1911, and moving home to Kansas and flying here in 1912.
1916 - Clyde Cessna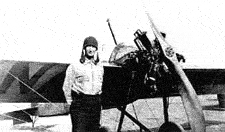 sets up shop in J.J. Jones car factory -- becoming Wichita's first aircraft producer.  Some date Cessna Aircraft Co. from this event.

1917 - Clyde Cessna sets U.S.&nbspspeed&nbsprecord (124mph) in his 1917 monoplane 'Comet'.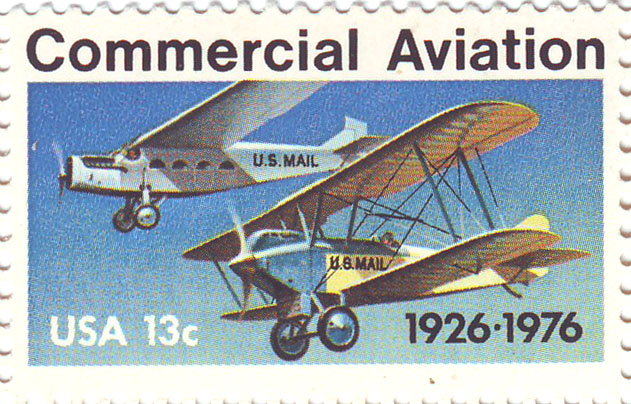 Pioneering aircraft of U.S. Commerical Aviation: the New Swallow biplane, of Wichita, redesigned by Lloyd Stearman -- flying early airmail, to start what will become United Airlines;
and the single-engine
Stout 2-AT monoplane airliner, of Detroit -- forerunner of the famed
Ford Tri-Motor (Bill Stout would later try developing a plane in Kansas, but failed.)
1920 - America's 1st successful "commercial" airplane: the Laird Swallow(Wichita) -- supplants the popular 2-seat Curtiss Jenny trainer, with streamlining, and with a double-wide passsenger cockpit, permitting a second passenger -- fundamentally & radically changing the economics of commercial passenger flying. Most U.S. planemakers follow suit.
The trend-setting, Wichita-based E. M. Laird (later Swallow) Mfg. Co. includes future famous independent aircraft manufacturers:
E.M. "Matty" Laird (E.M. Laird Co., in Chicago; famous for fast planes, National Air Races victor);

George "Buck" Weaver (WACO, in Ohio; top U.S. aircraft manufacturer, by quantity, in the mid-1920s);

Walter Beech (Travel Air, Beechcraft, & Culver, in Kansas);

Lloyd Stearman (Travel Air, Stearman & Boeing (Stearman Div.), in Kansas; revived Lockheed, in California).
1920s/1930s - Kansas City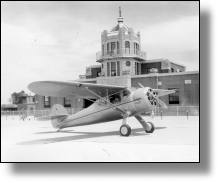 -- particularly around the Kansas-side Fairfax Airport -- becomes a center of lightplane manufacturing -- with Longren alumni leading at American Eagle, Butler Blackhawk, Luscombe, Rearwin / Commonwealth, Porterfield, and Inland Sport Aircraft.
1925 - Travel Air (Wichita)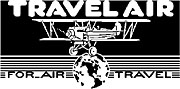 founded by aviators Clyde Cessna, Walter Beech, Lloyd Stearman and others. Becomes nation's leading aircraft manufacturer by 1929, building up to a quarter of America's civil aircraft. Travel Air's famous leaders would each start legendary, influential, world-famous aircraft manufacturers under their own names.
1925 - 3 Travel Air biplanes & a Swallow (all from Wichita) were among the 11 "perfect-score" setters in the trend-setting Ford Reliability Tour / National Air Tour -- boosting national credibility of these Kansas planes, in a major cross-country competition that included most of the nation's major planemakers.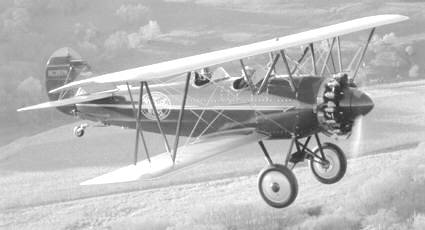 1926 - Travel Air (Wichita) wins "First Place" in the Ford Reliability Tour / National Air Tour, with Travel Air 4000, piloted by Walter Beech & navigated by Bryce Goldsboro. Clinches the national reputation of Travel Air planes.
1926 - Stearman Aircraft (Wichita) founded by Lloyd Stearman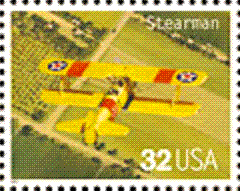 with help from Kansas business leaders. Leading manufacturer of stout biplanes for commercial cargo and airmail operators, and (later) military trainers.
1927 - Travel Air 5000 -- a 5-seat, single-engine monoplane -- is 1st airliner built to an airline's specifications -- the beginning of a trend that would result in most of the legendary airliners of the 20th Century, including the Boeing 247, 707, and 747, Douglas DC-3, and

Lockheed Constellation.
1927 - Travel Air 5000 is first civilian plane to Hawaii (Originally sought, unsuccessfully, by Charles Lindbergh for his legendary New York-to-Paris solo -- the Travel Air 5000 is entered in the next big race, by multiple competitors, including a renegade aviator "jumping the gun," Ernest Smith. Smith and his navigator Emory Bronte, become 1st civilians to fly to Hawaii, aboard their Travel Air 5000, City of Oakland. MORE...
Official race victory honors went to another Travel Air 5000, the Woolarac, which wins 1st race across the Pacific to Hawaii, piloted by popular aviator and radio star Art Goebel, guided by navigator Navy Lt.William V. Davis; MORE... CLICK HERE for PHOTOS.
These first two civilian flights over the Pacific clinch Travel Air reputation for long-distance flights.
1929 - Travel Air Mystery Ship,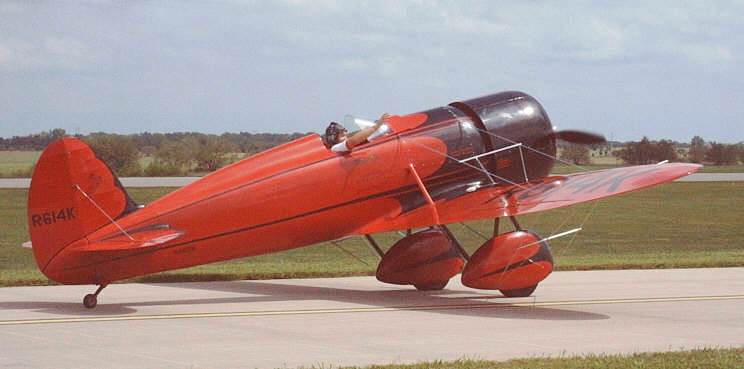 at an average speed of 195 mph (with laps exceeding 200 mph) -- a faster official speed than any commercial U.S. plane before -- becomes 1st civilian plane to win the National Air Races ("Thompson Trophy"), beating the top fighters of the U.S. Army & Navy (still using biplanes).
Introduces key modern airplane design features in first-ever race plane combination -- inlcuding monoplane design, air-cooled engines, NACA cowling, and wheel pants -- to unlimited-class air-racing, triggering radical changes to American airplane design. From the Mystery Ship, this pivotal combination of innovations eventually find their way into the rest of U.S. aviation, civil & military, radically increasing the peformance of American aircraft.
1929 - Travel Air, Stearman, Cessna, Swallow, and 14 other planemakers combine to win Wichita the official title "Air Capital City,"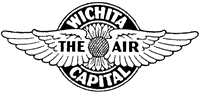 awarded annually by the nation's Aeronautical Chamber of Commerce (today's Aerospace Industries Assn.), to the U.S. city producing the most aircraft.
In 1929, Wichita, alone, produced over a quarter of the nation's total aircraft production. (Additionally, many other aircraft were built in Kansas City, Ks., and in other Kansas communities.) Thereafter, no city successfully challenges Wichita for the title.
Subsequently, the city adopts the nickname as its main moniker, and enhances it to "Air Capital of the World" -- a presumption not seriously and sustainably challenged by any other city on the planet, at least on production volume. Between 1916 and 2011, Wichita will produce over a quarter-million aircraft.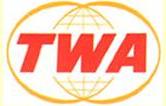 1920s/1930s - TWA (originally Transcontinental & Western Air, later TransWorld Airlines) -- based at the historic Fairfax Airport, in Kansas City, Kansas -- with backing from the world's two most famous aviators -- Charles Lindbergh & Kansas' own Amelia Earhart --

becomes one of the foremost leaders and trend-setters among U.S. airlines.
TWA dictates specifications as first customer for the Douglas DC-2, which evolves into the most important aircraft in world history: the Douglas DC-3 (left), which revolutionizes airlines worldwide, and greatly enhances U.S. military power.
1929 (Jun 17) - Delta Air Service (future Delta Airlines) makes its first passenger flight with a Travel Air 6000, a Kansas-built 6-seat cabin monoplane, flying from Dallas, Tex., to Monroe, La. Delta will become one of the largest, oldest and most successful airlines -- today the only U.S. airline serving every contintent but Antarctica -- the world's largest passenger airline.
1920s/1930s -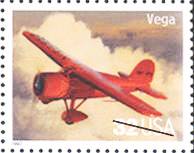 Kansas-bred
pioneer aviator
Amelia Earhart (of Atchinson) -- the first woman (2nd person) to solo across the ocean (in Lockheed Vega, shown at right) -- becomes global hero, most popular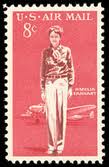 and recognized woman in the world, and most influential campaigner for womens' rights and independence.
Becomes a major force in promotion of early airlines, particularly TWA. Her disappearance on round-the-world flight becomes worlds' most famous "disappearance" mystery.
1931 - Stearman Aircraft Co. acquired by Boeing (through various mergers & reorganizations), eventually becoming Boeing-Wichita. In the second half of Kansas' Century of Aviation, it will become the state's largest single employer in any industry, and (for decades) the largest Boeing factory outside Washington state.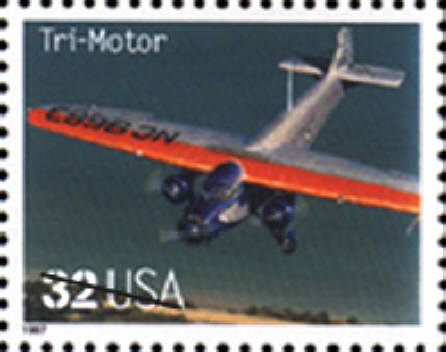 1931 - TWA Fokker Trimotor Crash, outside Bazaar, Ks., near Matfield Green, enroute between Kansas City and Wichita, kills national hero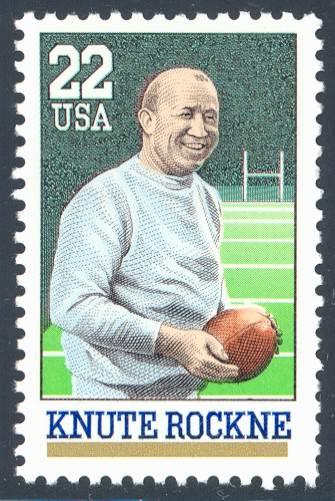 Knute Rockne and several others, triggering a national debate over airline safety, resulting in major, pivotal, life-saving changes to U.S. airliners & airline regulation.
This crash effectively forces the change from wood-frame

airliners to all-metal airliners (giving rise to the Ford Tri-Motor, Boeing 247, & Douglas DC-2 / DC-3, first specified by TWA).
Also results in safer, more detailed and demanding regulations for airliner inspection & maintenance.
Airline fatality rates -- the worst of any form of transportation in the 1920s -- improve dramatically after the Rockne crash and its resulting industry changes. In the U.S., today, airlines are the SAFEST form of travel. [CLICK GRAPH TO ENLARGE.] MORE...
---
1932 - Beech Aircraft (Wichita) founded,

eventually taking over old Travel Air factory & last Travel Air design - Beech Model 17 "Staggerwing." Eventually includes factories in Salina, Liberal, Hutchinson and Herrington, and outside Kansas.
1933 - Luscombe Aircraft (Kansas City, Mo.)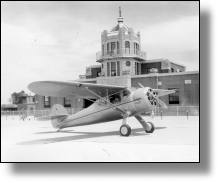 guided by first Kansas aviator Albin Longren, develops America's first successful aluminum-shell light plane -- the Luscombe Phantom -- the shape of things to come, throughout the industry.
1935 - Cessna Aircraft (Wichita) revived from shutdown, with Clyde Cessna's nephews Dwane & Dwight Wallace in charge. Eventually includes factories in Winfield / Arkansas City, Hutchinson, Independence, and outside Kansas. Under Dwane Wallace, Cessna Aircraft Co. will become the world's leader in general aviation aircraft.
1936 - Fast,

reliable Beech Model 17 "Staggerwing"
wins the U.S. Transcontinental Air Race ("Bendix Trophy"), with Louise Thaden & Blanche Noyes at the controls -- soundly trouncing the nation's most famous pilots and most sophisticated race planes. Yet the sleek, speedy Staggerwing is only a regular commercial production Beech airplane.
---
1940s - World War II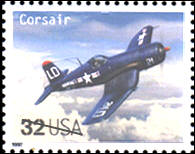 transforms America -- aviation and society alike. Kansas, like all of the U.S., sends tens of thousands of men and women to war, many in aviation roles. Many suffer and/or are greatly changed. Some do not return.
1940s - World War II triggers an explosive growth of Kansas aviation.  Aircraft factories and military airfields wildly expand, or suddenly appear, in various Kansas communities, to fight the legendary "home front" "Battle of Kansas":
Aircraft factories of Kansas -- especially in Wichita & Kansas City, Ks. -- produce, in total, one out of every nine U.S. warplanes (a third of the U.S. medium bombers (B-25), nearly half of the very heavy bombers (B-29), a quarter of the transports (Cessna & Beech light transports), most of the primary and twin-engine trainers, nearly all target drones, and over 2,000 invasion gliders -- plus major parts of thousands of combat aircraft, including the engines for many fighters.

Military airfields sprout throughout Kansas -- in Liberal, Salina, Hutchinson, Pratt, Garden City, Dodge City, Coffeyville, Olathe, Winfield-Arkansas City, and elsewhere -- training hundreds of crews in B-17, B-24/PB4Y, and B-29 bombers, as well as pilot and aircrew training in BT-13 intermediate trainers, and in P-47 Thunderbolts. (Crews were largely prepared first -- in Kansas and elsewhere -- in Kansas-built Stearman, Cessna and Beech military trainers)

War work results in vastly stronger Kansas aviation industry, with many beneficial effects -- especially modern factories and airfields, and tens of thousands of expert aviation workers -- lasting long after the war is won.
Late 1940s - Cessna & Beech (Wichita) become clear leaders and trend-setters of the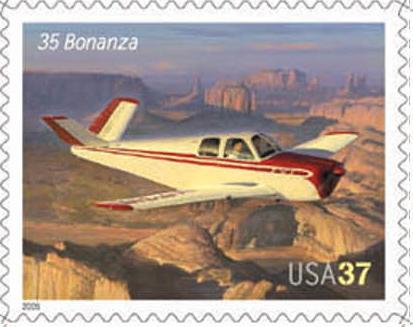 nation's light plane industry, with modern all-metal planes:
Affordable 2-seat Cessna 120/140,
Roomy 5-seat Cessna 195, and
Speedy 4-seat, V-tail Beech Bonanza.
While most competitors go out of business, or nearly so, in the postwar "boom-and-bust," Cessna and Beech gain ground, emerging as the general aviation industry's leaders.
---
1947 (Apr. 1): Wichita's Weather Bureau Office becomes the nation's first to have a weather radar installed. It is first installed at the original Wichita Municipal Airport (what is now McConnell AFB). From this Kansas beginning, weather radar eventually becomes one of the foremost safety advances of postwar aviation -- in Wichita, throughout the United States, and worldwide. Source: National Weather Service - NWS Wichita History
---
1940s-1960s - Massive "Cold War" spending on military airpower results in: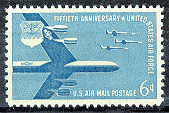 several Kansas Air Force Bases -- including:

McConnell AFB (Wichita)
Schilling AFB (Salina)
Forbes AFB (Topeka)

Intercontinental ballistic missile launch sites

Atlas ICBMs (around Salina)
Titan ICBMs (around Wichita),

Growth at Boeing-Wichita

(main factory for B-29, B-47 & B-52 bombers),

Military contracts for many other Kansas aviation companies.

1950s - Kansan James Jabara (Wichita) becomes America's "1st Jet Ace" -- and eventual 2nd-ranking ace of the Korean War.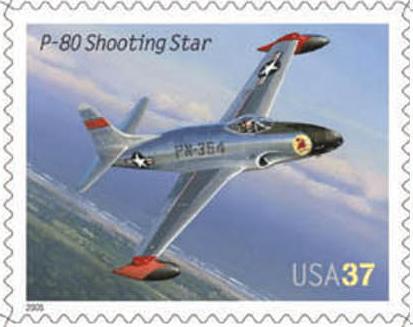 In later career, he commanded starting squadrons for the most challenging cutting-edge combat jets. Regarded as Air Force's top gunnery pilot, and key expert in combat jet operations. Today's USAF top award for airmanship is the "Jabara Award."
[PRONUNCIATION NOTE: Different from other relatives, Col.Jabara's name is pronounced "Juh BEAR uh," according to his surviving siblings -- not the more common "Juh BARR uh."]
1953 - Kansan Dwight D. Eisenhower (Abeline)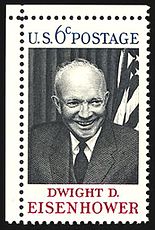 becomes President of the United States -- the first U.S. president to have been a licensed pilot (1939, learning in a Kansas-built Stearman trainer).
As President, "Ike" transforms U.S. civil aviation into a mature, structured, carefully-supervised growing system of transportation.
Under Eisenhower, the Airways Modernization Act created today's modern system of regulation, airways, and navigation. He created the FAA & NASA).
The first president to fly in a helicopter, and the first president to fly in a jetliner,

"Ike" fundamentally and radically expanded the role of aviation in the American Presidency, traveling over 300,000 miles on aircraft -- including helicopters, light twins, propliners and early jetliners.
---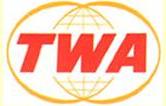 1950s/1960s - TWA -- TransWorld Airlines -- operating from main base at Fairfax Airport, in Kansas City, Kansas, becomes

world's largest, most influential airline. Drives development of Lockheed Constellation and Boeing 747, and popularizes international airline passenger flying.
---
1950s-1970s - Cessna Aircraft Co. (based in Wichita, with factories in Winfield/Arkansas City & Hutchinson) becomes the world leader in volume of aircraft produced, with over 100,000 Cessnas built in Kansas, and put to use around the world, by 1973. Each year,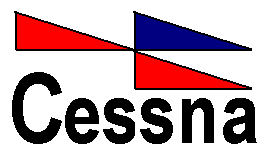 for 15 years (1955-1970) Cessna is the world leader in total airplanes produced.
Cessna builds almost every kind of general aviation aircraft imaginable, from puddle-jumpers and leading trainers, to the world's most popular personal planes, the world's most popular line of seaplanes (regular Cessnas on pontoon floats), to the leading bush planes and cropdusters, to light twins and executive aircraft, to helicopters, to military training and attack jets, to commuter airliners and light cargo transports, to the world's most popular "bizjets" (including the world's fastest).
At the same time, Beech Aircraft Co. (based in Wichita, with factories in Salina & Liberal) becomes the indisputable world leader in "business aircraft" -- having sold hundreds of pre-war Model 17 Staggerwings and Beech 18s, followed by another 7,400 for World War II

(most of which were returned to the civilian world as executive or commercial aircraft), over 10,000 post-war Bonanzas, hundreds of "Musketeer" light planes, and thousands of twin-engine aircraft ranging from the Baron light twins to grand cabin-class "executive airliners": the postwar Beech 18 (by then, the longest continuously produced plane in the world), elegant Queen Air, and its turboprop variant, the King Air (the world's most popular turboprop plane). Additional variations of these aircraft would find dozens of military support roles, from trainers to spyplanes, or grow into popular commuter airliners.
1960s - FFA - Flying Farmers of America (today's IFF- International Flying Farmers)
established in Kansas, organizing and representing the growing agricultural aviation industry.  About the same time, Cessna becomes nation's leading producer of crop-duster aircraft.
1964 - Lear Jet (Wichita)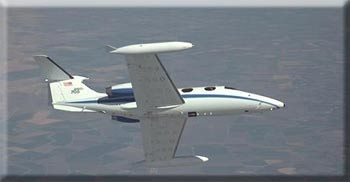 becomes first truly successful business jet, and the industry trend-setter -- light, fast, efficent (as jets go) -- essentially defining the concept of the "bizjet." (Today's Bombardier Learjet Div. builds the successors to this aircraft, mostly in Wichita.)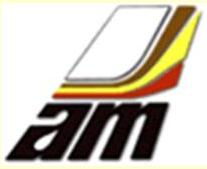 1969 - 1st Certified Commuter Airline - Aero Services, Inc. (ASI) founded , (the future Air Midwest Airlines, today's Midwest Express / Air Midwest div. of Mesa Airlines), based in Wichita and serving cities throughout Kansas, and eventually adjoining states. Starting out with Cessna and Beech commuter airliners, Air Midwest is industry's safety leader, with zero fatal accidents while under Kansas ownership.
1960s-present - Boeing-Wichita factory produces fuselage (body) for Boeing's most popular planes -- 737 & 757 --


and also major sections for all other Boeing jetliners -- 707, 720, 727, 747, 767, 777, and 787.
In recent years, the airliner factory continues the same work for Boeing, as the "independent" Boeing-supplier Spirit Aerosystems.
1970s - Bede Aircraft (Newton) -- led by Jim Bede (aided by young engineer Burt Rutan)-- begins manufacturing popular kits for BD-5 Micro light plane, initiating the long-term success of the "kitplane" movement.
1970s/1980s - Wichita aircraft manufacturers Cessna, Learjet & Beech/Hawker become the clear world industry leaders in business jet manufacturing.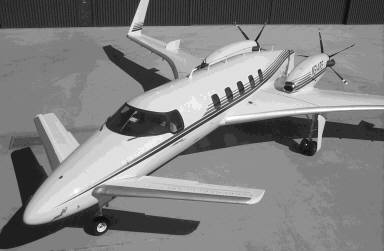 1980s - Beech Aircraft (later as Raytheon Aircraft) with starting help from Burt Rutan -- develops the trend-setting Beech Starship
Nation's first certified (for normal use) carbon-fiber, composite-shell airplane,

and

Nation's first all-electronic-display, "glass cockpit" instrument panel.
These are the 2 key transforming design technologies of today's latest aircraft -- both first mass-produced in Kansas.
1980s/1990s - RANS Aircraft (Hays) becomes one of the world's leading forces in the development and manufacture of ultralight and light-sport aircraft.
2000s - Airbus, one of the world's two leading airliner manufacturers, establishes North American engineering headquarters in Wichita,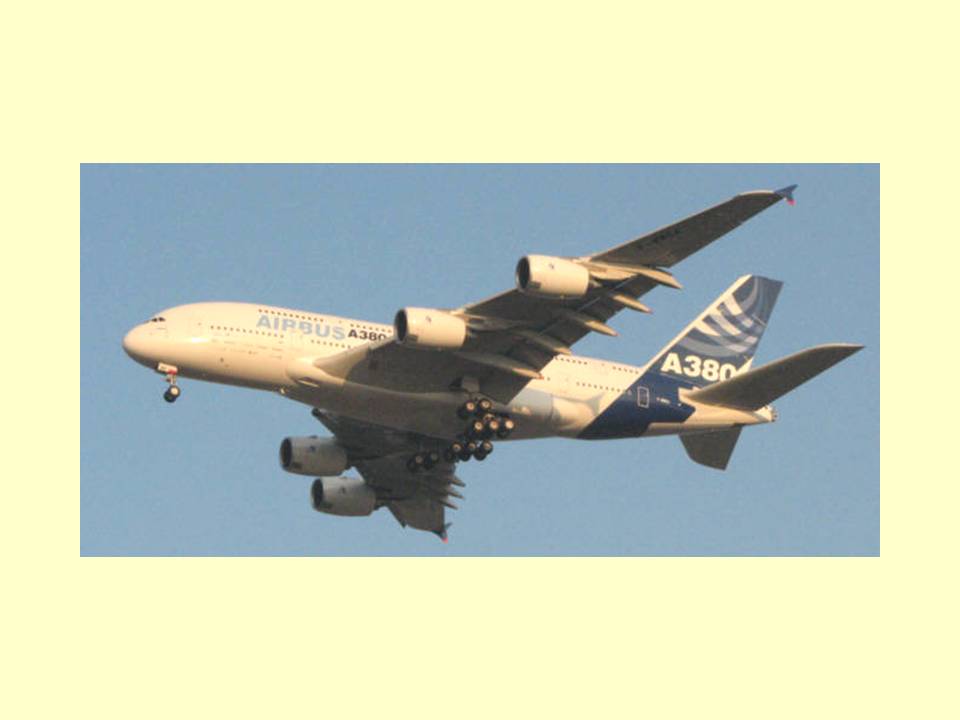 which designs the most complex structures of the world's largest airliner - the wings of the Airbus A380.
Wichita thus becomes one of the few cities in the world to host major facilities of all 3 top airliner manufacturers:
Boeing,
Airbus, &
Bombardier.
2005 - Steve Fossett  becomes first to circle the globe un-refueled, non-stop, solo, in Burt Rutan's Virgin Atlantic Global Voyager -- starting and ending at Salina Airport, with support from Kansas State University aviation students & faculty, working the flight's operations base and "Mission Control." 
Using those same Kansas resources, Fossett later sets the world closed-circuit distance record.
---
Join us in celebrating
a Century of Kansas Aviation!