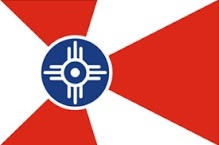 HOME
ABOUT KAC
The STORY
EVENTS / NEWS
RESOURCES
CONTACT US
LINKS to Related Info
---
K.A.C. IMAGES
FOR JOURNALISTIC
& EDUCATIONAL
USE ONLY

CLICK IMAGES
TO ENLARGE

Please credit:
"Ks. Aviation Centennial Cmte."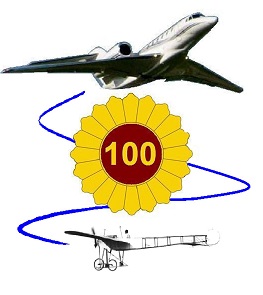 KAC Logo
For Journalistic Use Only, in covering activities of (or sanctioned by) the Kansas Aviation Centennial Committee.
---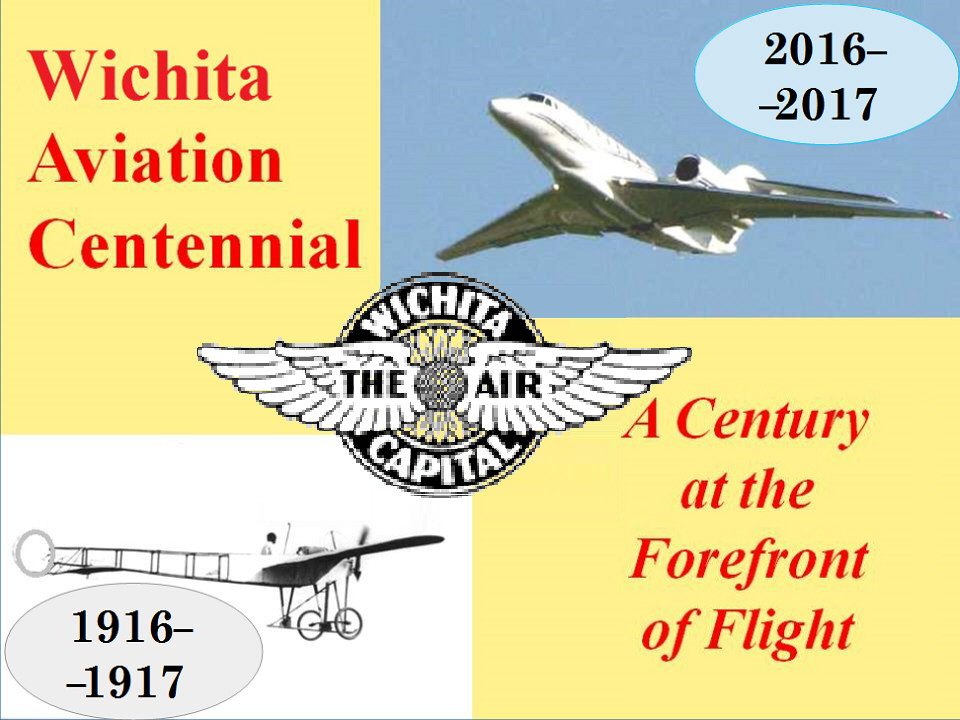 KAC Banner Logo
For journalistic & educational use only

---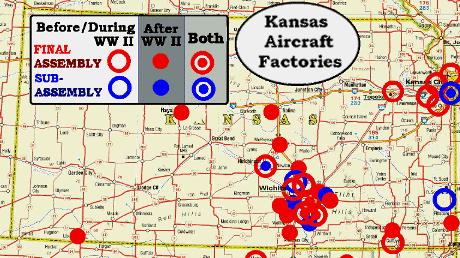 Kansas Aircraft Factories
past & present
For journalistic & educational use only
---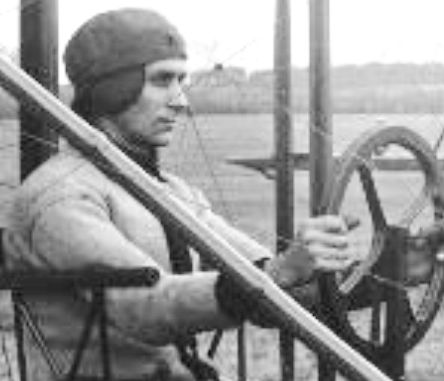 Albin K. Longren closeup
For journalistic & educational use only
---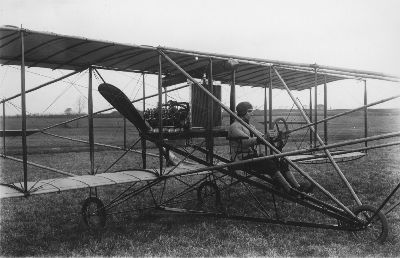 Albin K. Longren in his first plane: "Topeka I"
For journalistic & educational use only
---

Longren Flyer #1 - "Topeka I," derived from the design of the Curtiss Golden Pusher. First flight, Sept.2, 1911, near Topeka.
---
For low-contrast ORIGINAL image, CLICK HERE.
---
For HIGH-CONTRAST image, CLICK HERE.
---
For journalistic & educational use only
---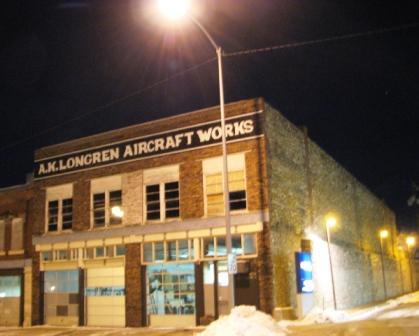 Longren's factory building, just north of the Capitol Building, in downtown Topeka, still stands.
For journalistic & educational use only
---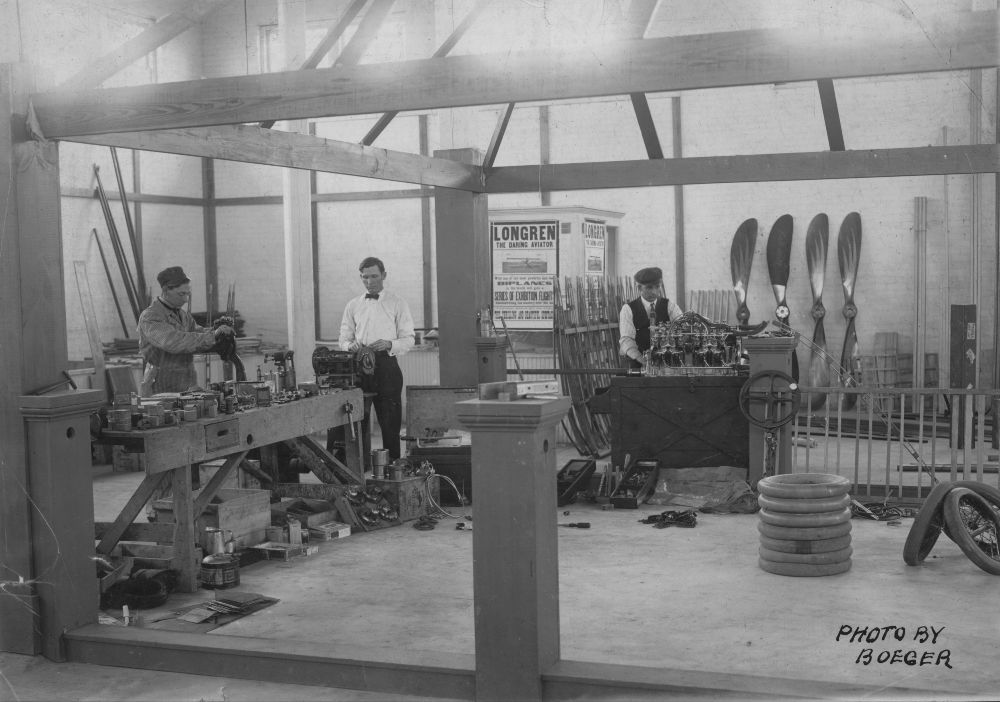 Inside Longren airplane factory, where almost everything was done by hand. This is where Longren began developing advanced airplane-manufacturing machines, which would become valuable to aviation of the future.
For journalistic & educational use only
---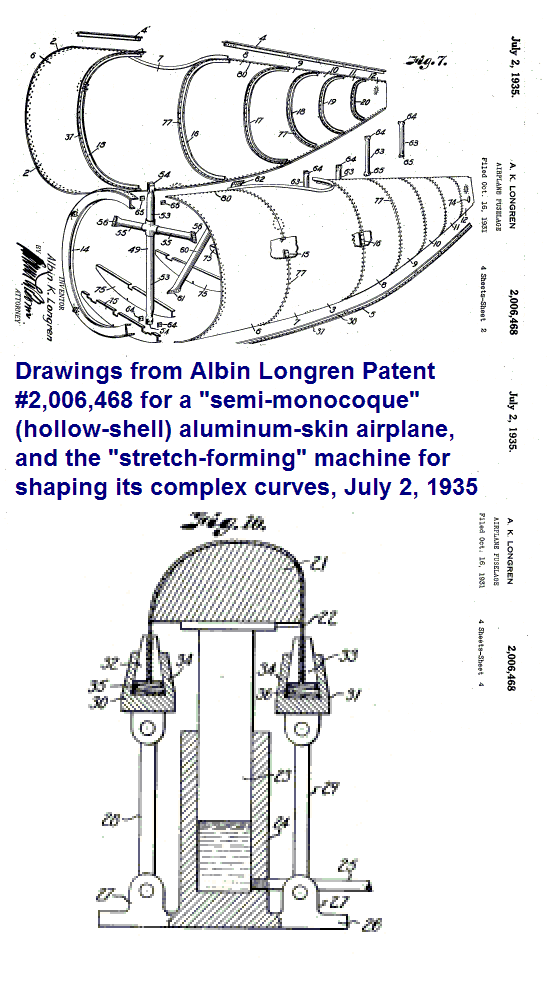 One of Longren's several patents (this one in the mid-1930s) on his process for building hollow-shell aluminum aircraft -- using a "stretch press" for aluminum forming -- drawing on work he'd begun in 1916. His technology would be sought by many manufacturers, and his concept of planemaking would become the standard way that most aircraft would be built for the rest of the 20th Century.
For journalistic & educational use only
---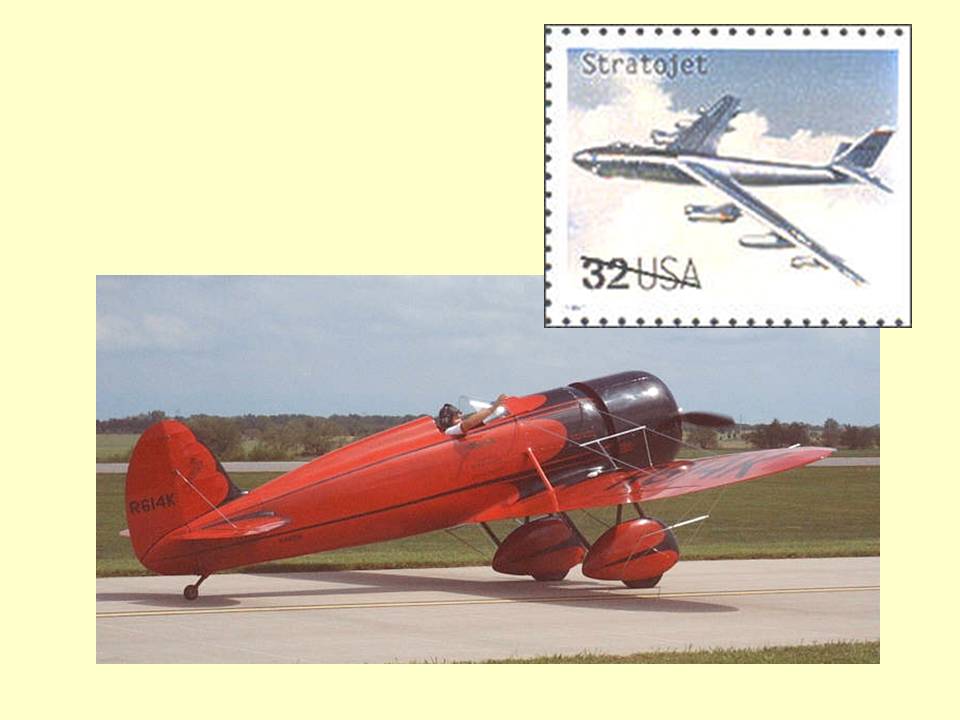 Kansas-built
Trend-Setters in Speed: 1929 Travel Air Mystery Ship and Boeing B-47 Stratojet
For journalistic & educational use only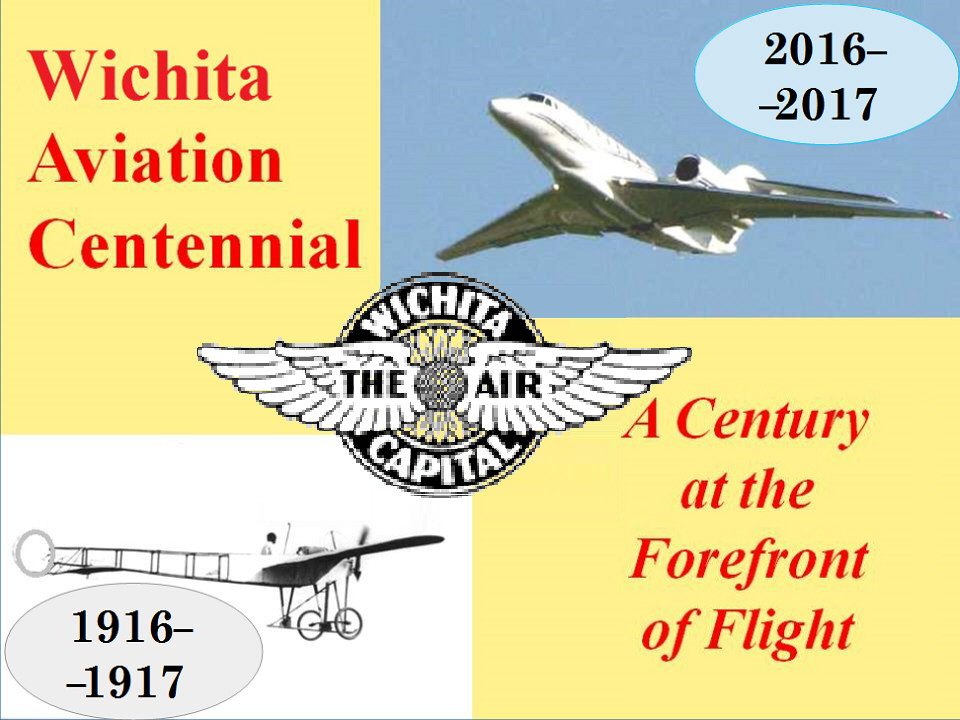 KANSAS AVIATION HISTORY
MUSEUMS, EXHIBITS, MONUMENTS & HISTORIC SITES
Museums, exhibits, historic locations & monuments -- in or near Kansas, and elsewhere -- that tell the story of Kansas aviation history.
NOTE: This is a DRAFT page. A few website links are not yet active. The following listings are not complete. Any suggestions or additional listing information should be forwarded to Kansas Aviation Centennial at one of the contacts on our CONTACT US page. Please include a way to contact you or the reported site.
---
The following map depicts Kansas Aviation Museums, and various Related Museums, Memorials & Monuments, to help you locate the towns & sites listed below. To enlarge, click on the map. For information on the sites marked, read the following text.
---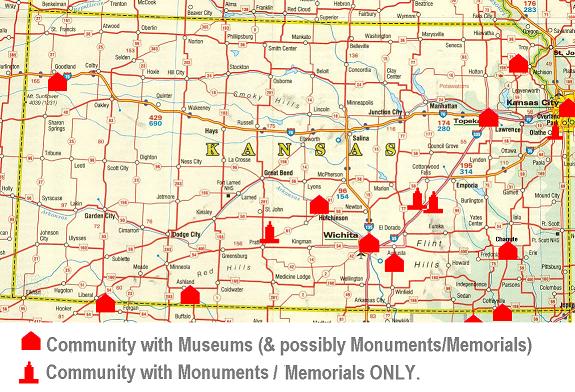 ---
NOTE: FOR MORE INFORMATION ON ANY LOCATION, CLICK FIRST ON THE NAME OF THE MUSEUM; THEN, ALSO TRY ANY ADDITIONAL LINKS PROVIDED BELOW IT.
(All links are to external websites, opened in separate windows. Close those windows to return to this page.)
---
---
---
WESTERN KANSAS:
---
---
LIBERAL:
---
Mid-America Air Museum
One of the largest aviation museums & historic aircraft collections in the United States. Over 100 aircraft -- some historic, many Kansas-related -- from vintage antiques, to WWII combat aircraft, to modern military jets, plus many private aircraft of all sizes.
(More info: CLICK HERE or HERE or HERE or HERE or HERE .)
---
---
GOODLAND:
---
High Plains Museum
Not an aviation museum; home to sole replica of 1909 Purvis-Wilson helicopter, 1st patented U.S. helicopter, developed here. (for more info, CLICK HERE or HERE or HERE or HERE .)
---
---
PRATT:
---
Pratt Army Air Field History Center
and All Veterans Memorial Complex
Former Army Air base, where WWII bomber pilots trained. Monument already in place. The rest under development according to last known information.
(For additional info, CLICK HERE or HERE .)
---
---
ASHLAND:
---
Pioneer-Krier Museum
- Harold Krier Field Aerobatic Museum
Home field of famed 1950s/1960s acrobatic flyer Harold Krier, 3-time U.S. champ, who revived the sport of competition aerobatics.
(for additional info, CLICK HERE or HERE .)
---
---
---
SOUTH-CENTRAL KANSAS:
---
---
WICHITA:
---
Kansas Aviation Museum
& Kansas Aviation Hall of Fame
Medium-sized aviation museum in once-famous old airport building, that overlooks McConnell Air Force Base (originally Wichita Municipal Airport). Excellent view from control tower (no handicapped access). Moderate-sized collection of aircraft, most built in Kansas -- Boeing jets, military, business and personal aircraft, and antiques -- that visitors can walk up to. Hundreds of scale models. Kansas Aviation Hall of Fame (a picture gallery). Located in southeast Wichita, at extreme southeast end of George Washington Boulevard (NOT to be confused with Washington Street).
---
McConnell Air Force Base -
(Static displays of military jets; must normally be viewed from well outside the fence, except during annual autumn air show.)
West Gate:
- Reflections of Freedom
Historical Air Park
East Gate:
- Boeing B-47 Stratojet
& KC-135 Stratotanker
---
Wichita / Sedgwick County Historical Museum
Not an aviation museum, but extensive local aviation history section, covering Wichita's great national influence in the "Golden Age" of aviation, with movies.
---
Exploration Place
An interactive science museum, with large aviation section, plus Cessna Silverwings replica.
---
Piatt Street Crash Site Memorial
Site of Kansas' largest-non-natural disaster -- a 1965 crash that claimed 30 lives.
---
---
AUGUSTA:
---
Kansas Museum of Military History
Large military musuem, includes Bell Huey & Kiowa (JetRanger) helos and related machines, plus memorabilia from local planemakers Boeing, Beech Cessna and Learjet. 300 model aircraft. Massive collection of military artifacts from all U.S. 20th-Century wars -- including armored vehicles.
(for additional info, CLICK HERE or HERE .)
---
---
HUTCHINSON:
---
Kansas Cosmosphere & Space Center
One of the 3 largest spaceflight museums & historic spacecraft collections in America, from World War II flying bombs to the Space Shuttle. SR-71 Blackbird, Mercury, Gemini & Apollo spacecraft & launch rockets, lunar lander (LEM) & rover, satellites, many space artifacts; info on Kansas astronauts. IMAX dome theater & planetarium.
(For more info: CLICK HERE .)
---
---
COTTONWOOD FALLS / MATFIELD GREEN AREA:
---
Knute Rockne Plane Crash Memorials (2 sites) For the history, CLICK HERE
- Crash Site - near Bazaar (south of Cottonwood Falls)
- Kansas Turnpike Rest Stop
(near Matfield Green; inside building)
---
---
---
SOUTHEAST KANSAS:
---
---
CHANUTE:
---
Martin & Osa Johnson Safari Museum
NOT an aviation museum, but aviation-connected. The Safari Museum tells of the famed adventures -- by air, sea and land -- of the Johnsons, whose pioneering adventure-documentary films changed America's grasp of the world. Their adventures proved the capabilities of aviation, flying big Sikorsky amphibians to some of the most remote places on earth.
---
---
COFFEYVILLE:
---
Aviation Heritage Museum
Emphasizes Funk airplanes, built here.
(for additional info, CLICK HERE or HERE .)
---
---
---
NORTHEAST KANSAS
/NORTHWEST MISSOURI:
---
---
TOPEKA:
---
Kansas Museum of History
(NOT an aviation museum; has only known existing original Longren aircraft.)
---
Combat Air Museum
Extensive collection of military aircraft, engines & artifacts, including huge EC-121 (Lockheed Constellation) airborne radar air-traffic-control plane, open to visitors.
---
Kansas National Guard Museum - Forbes Field
(for additional info, CLICK HERE or HERE .)
Includes military helicopters.
---
Topeka Forbes Field Airline Terminal
- Historic Exhibits (Lobby)

---
Billard Airport Restaurant
(Billard's Landing Cafe) - MAP
- Historic Exhibits / Airport View

---
Longren Aircraft Factory - Topeka Billard Airport

---
Longren Aircraft Factory - Downtown

---
---
OLATHE / NEW CENTURY:
---
Old Olathe Naval Air Museum
NOTE: Status of Museum is unclear. Believed closed. Currently, 3 Navy jets on display on main road into New Century airport, in open park.
---
CAF Heart of America Wing
- Commemorative Air Force

---
---
KANSAS CITY (Missouri):
---
National Airline History Museum
On west side of Downtown Airport, Kansas City, Missouri. Originally TWA museum, with extensive TWA artifact collection, including giant triple-tailed Lockheed Constellation propliner and other aircraft. Now attempts to cover whole commercial aviation industry. Guided tours.
(for additional info, CLICK HERE or HERE .)
---
World War I Memorial & Museum
The official national museum of World War I.
---
---
ATCHISON:
---
Amelia Earhart Birthplace Museum
Birthplace and childhood home of world's most famous woman aviator, beside Missouri river overlook. Extensive historic displays, and occasional events. (For more info by National Park Service: CLICK HERE .)
---
---
---
NORTHEAST OKLAHOMA:
---
---
BARTLESVILLE, OK:
---
Woolaroc Museum
(NOT an aviation museum.)
The Woolaroc estate of oil magnate Frank Phillips includes one of the most famous Wichita-built airplanes of all time, his Woolaroc, a Travel Air 5000 (the only one on display), which famously "won" the 1927 Dole Race to be "first" to Hawaii by air.
---
---
---
MAJOR NATIONAL AVIATION MUSEUMS
with significant displays/collections of
Kansas aviation history information, exhibits, artifacts and/or aircraft.
---
---
WASHINGTON, D.C. AREA:
---
National Air & Space Museums
of the Smithsonian Institute:
- The National Mall site,
by the Capitol Building
- The Udvar-Hazy Complex,
by Dulles Airport
- The Garber Facility, Silver Spring, MD
World's most popular museum, of any kind -- the nation's semi-official air & space museum (3 sites), with America's most famous aircraft and spacecraft. Site on the National Mall beside the U.S. Capitol Building is home to most famous aircraft & spacecraft in U.S. history, from the original Wright Flyer, to the Apollo 11 moon flight capsule -- many connected to Kansas and Kansans: Lindbergh's Spirit of St.Louis, Louise Thaden's race-winning Beech Staggerwing, the sound-barrier busting Bell X-1, etc.. Dulles Airport site is one of world's largest aerospace museums.
---
---
DAYTON, OHIO AREA:
---
National Museum of the
United States Air Force
& National Aviation Hall of Fame
World's largest aerospace museum, main museum of the U.S. Air Force (and Army Air Corps before it.). Aircraft range from balloons and Wright biplanes, to giant bombers and transports, to world's fastest jets. Foreign aircraft, plus rockets, missiles & spacecraft. Includes models built in Kansas by Boeing, North American, Cessna, Beech, Stearman, Culver & Helio, plus nearly all military aircraft models ever based in Kansas: trainers, transports, fighters, bombers, spyplanes, etc. Home of Nat'l Aviation Hall of Fame, where several Kansans are enshrined.
---
---
OSHKOSH, WISCONSIN AREA:
---
EAA - AirVenture Museum
Experimental Aircraft Association
Master Aircraft List Includes rare Kansas-area aircraft: Swallow OX5, Travel Air 2000 & E-4000, Rearwin, Nicholas-Beazley, Corben, Culver, Funk, Bede BD-5, Cessna CG-2 glider (and common 150H & 210), plus military & commercial aircraft used in Kansas.
---
---
SEATTLE, WASHINGTON AREA:
---
Museum of Flight - Boeing Field
One of the world's top aerospace museums, includes many Boeing aircraft (on Boeing Field, with original Boeing "red barn" factory part of tour), plus many other Kansas-connected aircraft, from famous Swallow mailplane to Cessna CG-2 glider, to fighter jets. SR-71, biplanes, propliners, flying car, AirForce1 -- some aircraft open to visitors.
---
---
TULLAHOMA, TN
---
Beechcraft Heritage Museum
(formerly: the "Staggerwing Museum")
Major museum focused exclusively on Beech (and Travel Air) planes. First production Travel Air and first Model 17 "Staggerwing" biplanes, other Beech planes ranging to Starship; with landmark aircraft. Expert restoration facility. Beech buffs revere it.
(for additional info, CLICK HERE or HERE .)
---
---
---
Join us in celebrating
a Century of Kansas Aviation!


<!- ------------- BOTTOM menu table ----------->

| HOME | ABOUT US | The STORY | EVENTS | RESOURCES | CONTACTS | LINKS |

<!- ------------ FIFTH ROW ----------->