KANSAS AVIATION HISTORY


- THE LONG STORY
---
CONTENTS: (click on link to jump to section)
BEGINNINGS


NOT JUST LONGREN


BEFORE LONGREN


KANSAS AVIATION INDUSTRY BEGINS



---

WICHITA: THE AIR CAPITAL CITY:

---

KANSAS CITY AVIATION


ELSEWHERE in KANSAS


WORLD WAR II


POSTWAR PROGRESS


LEGENDS - KANSAS AVIATION PEOPLE


KANSAS AVIATION TODAY


CREATING THE WORLD'S AVIATORS,
AVIATION LEADERS & INNOVATORS


KANSAS AVIATION INDUSTRY NOW



---

Sept. 2, 2011 -- is the 100th Anniversary of Kansas Aviation -- the start of the second century of one of the world's foremost centers of:

Aircraft Manufacturing,
Aerospace Technology, and
Global Aviation Leadership.

---

BEGINNINGS

On this date in 1911, the first generally recognized Kansas-built airplane flew, in Topeka, Kansas -- piloted by Albin Kasper Longren, a self-educated Topeka machinist, who -- with his brother and a buddy -- had built the airplane from scratch, imitating the popular Curtiss Pusher design.

Longren repeated his flights several times over the next few days, quite soundly outperforming most of the first-time flyers of the day, without the customary beginner's crashes. He promptly began exhibition flying throughout Kansas and the region, becoming, for many, the first aviator they had ever seen.

Quite unlike most of his aviation-pioneer peers, Longren crashed only once in over a thousand flights.

In the following years, Longren produced a number of aircraft, becoming one of America's first aircraft manufacturers, and pioneering today's techniques of aircraft construction. His advanced technology made him a key consultant to aircraft manufacturers throughout Kansas, the region, and the nation. He would pioneer -- and briefly patent -- the core technologies of modern aircraft structural design and manufacturing that are now used by all major planemakers, worldwide.

Longren's former employees launched several early manufacturers in the Kansas City, Kansas area, which ultimately led to that city's major aircraft-manufacturing role in World War II, and its historic role as home base of TWA -- TransWorld Airlines -- for decades the largest airline in the world.

---

---

---

NOT JUST LONGREN

Longren was not alone. In the following year, Clyde Cessna -- a Kansas-bred farmer / craftsman / car salesman, who had begun flying (and crashing) his own airplane in Oklahoma in May, 1911 -- returned to his family homestead in Kansas, to begin a legendary aviation career and company. Cessna Aircraft Company would eventually become the world's leader in quantities of aircraft produced. (Albin Longren, too, would later contribute his talents to Cessna Aircraft Co., as Vice President and engineer).

---

BEFORE LONGREN

From the start of the 20th Century, aviation bloomed in every nook and cranny of the Sunflower State.

The world's first known aircraft factory was erected in the utopian southeast Kansas villiage of Freedom (north of Fort Scott), in 1900. The tiny community's optimistic pioneers had hopes of working with aviation dreamer Carl Dryden Browne to produce an early helicopter, which never reached development. Nevertheless, this still-born Kansas aircraft factory is widely recorded as the world's first airplane factory.-- in the state that would someday become famous for so many aircraft factories.
(In the nearby socialist village of Girard, the Call Aircraft Co. would soon debut a spectacular non-flying failure, followed eventually by a couple of working airplane designs.)

America's first patented helicopter design was crafted in Goodland, in 1909, by inventors Purvis & Wilson. Inadequate controls and the lack of a suitable lightweight engine kept it from flying more than tiny hops, while tethered safely to the ground. Its coaxial counter-rotating dual-rotor design would be repeated by Russian Igor Sikorsky in his first attempt at creating the helicopter (a generation later, using a different configuration, Sikorsky would invent the first truly successful helicopter). The Purvis-Wilson system eventually found use in hundreds of successful Russian and Polish helicopters. Today, the concept lives in some drone helicopters, and in most popular toy electric helicopters.

Two of America's most influential early airplane manufacturers grew up as Kansas boys. At the turn of the century, in Parsons, Liberal and Salina, early aviation-industry tycoons Glenn L. Martin and T. Claude Ryan grew up as Kansas boys, learning basic technology and business here. Both moved to California, where they soon became historic forces in the fledgling aviation industry:

Glenn L. Martin

-- inspired by Kansas skies, winds and waterfowl -- became obsessed with flight, while a Kansas kid. Living in Liberal, while just a boy, Martin began his legendary aviation-manufacturing career -- by designing, building and selling exceptional kites, which soared unusually high in the Kansas wind.
To further his aviation ambition, Martin studied mechanics while in Salina High School, worked in a Salina bicycle/auto shop, and studied business at Salina's Kansas Wesleyan University.
Moving to California, he learned to fly, and built his first plane -- the first of thousands. His first barnstorming tour took him through his boyhood home state of Kansas. Returning to California, he opened an early flying school, and taught people who would become aviation leaders of the future.
Far outlasting his only original rivals -- the Wright brothers and Glenn Curtiss -- Martin's superior designs soon took the lead in U.S. military aviation.
The founders of most of America's major plane-makers of the 20th Century --

Boeing,
Douglas,
McDonnell,
North American

(later Rockwell),
Vought

(later L-T-V),
Bell Aircraft

(later Bell Helicopter)


-- all began their aviation careers as Martin's students or apprentices. In fact, the first Boeing airplane was a modified Martin floatplane.
The giant Martin flying boats became the worlds' most successful. His bombers were often at the cutting edge of U.S. military aviation, and his World War II B-26 Marauder was reputedly the toughest U.S. bomber of the war. Martin also built, under license from Boeing, the B-29 Superfortress bombers that dropped atomic bombs on Japan.
From World War I to modern times, Martin's company developed many of America's trend-setting military airplanes, rockets, missiles and even spacecraft. Martin, having far outlasted his early rivals, was in command until 1952, building jets and missiles, including America's first operational cruise missile.

Following his departure, the company continued pioneering, with Vanguard, Pershing and Titan missiles -- three of the five main U.S. land-based nuclear ballistic missiles, including two used to launch U.S. satellites and manned spacecraft. It joined Marietta Corp. to become Martin-Marietta in 1961, which ultimately, joined Lockheed to become Lockheed-Martin, today one of the United States' three largest aircraft-and-spacecraft manufacturers. In Aug. 2012, that company celebrated the 100th Anniversary of the founding of the Glenn L. Martin Company, with plans for a year-long centennial commemoration. (For more on that event, CLICK HERE )

T. Claude Ryan raised in Parsons, Kansas, acquired his mechanical skills there, becoming an avid motorcyclist.
Moving to California, Ryan began working with airplanes, and soon became an historically influential aeronautical experimenter and innovator, at the head of Ryan Aircraft. He was among the first to make monoplanes (single-wing airplanes) commerically successful -- in place of traditional biplanes. The historic New York-to-Paris transatlantic solo flight by Charles Lindbergh -- aboard Ryan's most famous monoplane: the "Ryan NYP" Spirit of St. Louis -- forever established monoplanes as the preferred airplane design, worldwide.
During, and just before, World War II, his Ryan School of Aviation trained over 10,000 pilots for the war, many of them in America's only metal-skinned, modern primary trainer of the war, the Ryan PT-22.
For two generations, Ryan would be one of the world's most creative innovators in exotic aircraft design, including some of the first modern metal-shell airplanes (the style of aircraft construction now most common), the first Navy carrier jet, and early vertical-takeoff jets.

---

KANSAS AVIATION INDUSTRY BEGINS

Kansas Aviation History really took off with the 1911 first flight of Albin Longren near Topeka, and the 1912 return of Clyde Cessna to South-Central Kansas, as an aviator.

Over the next ten decades, farmers and barnstormers, oil wildcatters and merchants, native craftsmen and transplanted engineers, would all take a turn at giving birth to new and important aviation enterprises throughout the state. Some of their names became legends: Cessna, Laird, Stearman, Beech, Mooney, Porterfield, Lear, Bede, Rutan and more.

---

WICHITA: THE AIR CAPITAL CITY

Early Birds & World War I

From the birth of the airplane, Wichita was a community attracted to flight. It had invited various early aviators to perform there, and in World War I, local men became early military aviators. One of them would become (posthumously) among America's first aviators awarded the Medal of Honor: Lt. Erwin Bleckley, the aerial observer who gave his life to get help to the desperate, besieged "Lost Battalion."

(Topeka, too, put forward a notable WWI aviator: Phillip Billard, son of Topeka's mayor, and Albin Longren's first student. Billard was also Longren's first customer, buying one of Longren's earliest planes; when Billard joined the National Guard, Billard's Longren Flyer became the first "military airplane" in Kansas. Soon a master aviator, young Billard was sent to France, to train American combat pilots in the tricky, rickety planes of the war. A crash during a test flight finally took his life.)

Another early Kansas military aviator, Julius Earl Schaefer, brought an early military "flying circus" to Wichita, and stayed connected to the city's aviation developments. Schaefer would later become head of Stearman Aircraft, as it evolved into Boeing-Wichita.

Oil to Airplanes:
Mollendick, Burke,
Laird & Swallow

During the First World War, someone struck oil in neighboring Butler County, and the resulting oil boom was soon supplying a tenth of America's oil. The oil boom created frantic transportation needs, and quick millionaires.

Among the suddenly rich was oilman Jake Mollendick (right). Jake nvested some of his wealth in a flying service, iselling rides or flying cargo errands in rickety war-surplus biplanes -- the ubiquitous-but-slow, 2-seat trainers that made up all of the affordable aircraft of the times. His flight service manager, Billy Burke, tipped old Jake that a young Chicago barnstormer, Matty Laird (left), had developed a speedier, 3-seat alternative (allowing twice as many passengers) -- but Laird lacked the resources to manufacture it.

Jake Mollendick offered to fund a company to manufacture and sell Laird's "Swallow" -- if Laird would move to Wichita. The young Laird agreed, and a stormy but exciting relationship began.
Starting in 1920, Wichita's brand-new E. M. Laird Aircraft Manufacturing Co., became America's first successful commercial aircraft manufacturer, producing America's first successful commercial aircraft: the Laird Swallow.

The fast, profitable Swallow was instantly in demand. Over 40 were built and sold in quick succession. Soon, every planemaker in America was copying the Swallow's 3-seat design -- revolutionizing the profitability of commercial flying.

But Jake Mollendick was a belligerent boss, and ran off nearly all who worked with him.

First, Laird's buddy Buck Weaver returned East, to Ohio, to join forces with others to build Weaver Aircraft Co. -- WACO -- the nation's leading civilian plane-maker in the mid-1920s.

Matty Laird soon quit his and Jake's company -- returning to Chicago, with his company name, to make legendary speedsters, including the speedy Laird Commercial biplanes. Within a decade, his Laird Super Solution biplane racer, piloted by legendary aviator Jimmy Doolittle, would famously win the National Air Races -- defeating the legendary Mystery Ship racer of one of his own former Wichita employees, who had replaced him as General Manager at the Wichita factory: Walter Beech.

Back in Wichita, though, in 1922, old Jake renamed the Wichita business "Swallow Airplane Co." -- putting its salesman / test pilot, Walter Beech (left), and its draftsman, Lloyd Stearman (right), in charge -- with Beech as General Manager, and Stearman as Chief Engineer, of Swallow.

Stearman (with help from Beech and craftsman Walter Burnham) revised the Swallow into a faster, better "New Swallow," which continued the Swallow's popularity. But when Beech and Stearman argued for a better airplane construction technique -- switching from obsolete wood frames to modern metal frames -- Jake refused, and ran them off, too.

Travel Air Trio:
Stearman, Beech & Cessna

So, Beech and Stearman, with co-worker Bill Snook -- struck out on their own to build and sell the refined and sturdy metal-framed biplanes designed by the tiny, team (chiefly by Stearman, actually).

With money and management from two others -- prosperous local farmer / barnstormer Clyde Cessna, and leading Kansas merchant Walt Innes, Jr. -- they formed the historic Travel Air Manufacturing Co., in Wichita.

Soon, Travel Airs were the most popular airplanes in America. Their relatively comfortable open-cockpit biplanes were the fastest, sturdiest, and most trusted. Their trend-setting enclosed-cabin monoplanes (Cessna's idea) helped start major airlines, including United and Delta.

Travel Air's record-setting monoplane racer -- the scarlet-red 1929 Mystery Ship -- was the first civilian airplane to defeat the military's best biplane fighters at the National Air Races. It introduced key new technologies to streamline airplanes, and set the trend for modern airplane design in the U.S.

Winning the Title:
"Air Capital City"

Cessna, Beech and Stearman soon went their separate ways, but each became a legendary producer of famous 1920s and 1930s aircraft, each in Wichita. (Their companies survive to the present day, as Cessna Aircraft, Hawker-Beechcraft, and Boeing-Wichita / Spirit Aerosystems.)

Various other entrepreneurs branched out from Laird/Swallow and Travel Air, and soon Wichita was awash in planemakers.

By 1928, Wichita, alone -- with 19 aircraft factories and shops, a dozen aeronautical schools, multiple makers of airplane engines, propellers and instruments, and countless subcontractors -- was producing more aircraft than any other city in the nation. Thus it won the prestigious national aviation industry title of "Air Capital City," a semi-official title awarded by the U.S. aviation industry's chief trade organization, the Aeronautical Chamber of Commerce (today's Aerospace Industries Association).

Over the next few years, Wichita held on to the title, until the ACC permanently relinquished the title to Wichita. For the rest of its existence, Wichita has been one of the world's most prolific aircraft production centers -- with the probable world record at well over 200,000 aircraft produced, and tens of thousands more by its companies' various facilities elsewhere (particularly in Kansas).

---

KANSAS CITY AVIATION

Kansas City, Kansas -- largely aided by Albin Longren and alumni of his early Topeka venture -- became a significant aircraft-manufacturing center. KC entrepreneurs -- on both sides of the Kansas/Missouri state line -- produced a wide range of popular, influential light airplanes -- including...


American Eagle
Butler Blackhawk
Nicholas-Beazley
Rearwin / Commonwealth
Porterfield
Inland
Luscombe

The revolutionary all-metal, Luscombe Phantom (built across the river, in Kansas City, Missouri, under the technical guidance of Topeka's Albin Longren) was introduced in 1935 -- setting the future design standard for modern light aircraft. It transcended traditional airplanes, which were made with heavy wood-and-steel structural frames wrapped in fabric skin. The Luscombe, instead, used lightweight "monocoque" aluminum sheet-metal construction, as devised by Albin Longren, where (like an aluminum soda pop can) the metal skin doubles as the structure. The result: lighter, more streamlined aircraft, with much greater performance, payload and efficiency.

This design technique would become, by the end of World War II, the way that nearly all planes were built for the rest of the century -- as it remains today. Yet Longren had forseen this concept when he began experimenting with monocoque aircraft in 1916. One of Longren's early patents (#2,006,468 -- applied for in 1931, awarded in 1935), covered the metal-monocoque concept (actually, the reinforced "semi-monocoque" variation, which became the preferred method of plane-buidling). It also included the design of the key tool for building such planes: the "hydraulic stretch press" -- a hydraulic ram specialized for forming large sections of aluminum sheeting into the complex curves of airplane shapes -- still the main factory machine of the aircraft industry, today.

(From Kansas City, Albin Longren would venture throughout the nation, sharing his technology with other companies that would then become major pioneers in modern all-metal light-aircraft design: Cessna, in Wichita, and Spartan in Tulsa, then on to Southern California where his own Longren Aircraft Co. would become one of the nation's most important aircraft-manufacturing subcontractors, building major sections of aircraft for all of the major planemakers of the West Coast, from San Diego to Seattle, and supplying them with key manufacturing technology, still in use today.)

Kansas City also served as a key national airline hub connecting the East with the West. Kansas City, Wichita and Salina served as the primary refueling and transfer stops on the main transcontinental airline routes, and each of these cities developed nationally-renowned modern airports.

One of the nation's five main airlines, Transcontinental and Western Air ("TWA" -- later "TransWorld Airlines") made Kansas City its national (later global) operating headquarters, with office and support facilities on both sides of the state Kansas/Missouri line -- particularly TWA's main aircraft base at Fairfax Airport on the Kansas side. TWA would grow to become Kansas City's largest employer, and the world's largest (and most important) airline.

TWA had a profound historic impact -- both accidentally and deliberately -- in shaping the future of airliner design.

By accident: A 1931 TWA crash, outside Bazaar, Kansas (near today's Matfield Green rest stop on the Kansas Turnpike), killed a national hero: America's beloved philosopher / sportsman Knute Rockne, football coach of Notre Dame. The tragedy was mourned throughout the nation (still observed in ceremonies at the crash site and Notre Dame every few years). The faulty wood wing of TWA's Fokker tri-motor was blamed, leading to the end of wooden commercial airplanes, nationwide, and triggering the rise of all-metal airliners -- starting with the historic Ford Tri-Motor.

By design: Many of the most important airliners in history were developed chiefly for TWA, or to TWA's specifications, including the:

Douglas DC-2 (which quickly evolved into the Douglas DC-3, generally regarded as the most important airplane in aviation history),
Lockheed Constellation (the first truly successful long-range, pressurized airliner, making fast, efficient, non-stop transcontinental and trans-oceanic flights, leaping over most bad weather).
Boeing 707 (America's -- and the world's -- first truly successful jetliner)
Boeing 747 (the first wide-body "jumbo jet", which revolutionized the economics of jetliner travel, making long-distance jet flights far more accessible to ordinary people.).

---

AND ELSEWHERE...

In aviation's "Golden Age" between the World Wars, barnstormers, inventors, airplane tinkerers and businessmen -- infatuated with the adventure, prestige, and financial allure of airplanes -- stirred the aviation pot throughout Kansas. For instance,..

In Coffeyville (and across the border in South Coffeyville, Okla.), the Funk Brothers were manufacturing and distributing their "Funk Model A" (and later Model B ) -- an "affordable" and popular Depression-era sport plane. To keep them "affordable," Funk planes were originally powered by cheap and plentiful Ford Model A automobile engines.

A Chanute couple, Martin & Osa Johnson, became famous as the first nature-adventurers catering to popular entertainment on film. In their customized, zebra-striped, Sikorsky flying boats, they ranged throughout the scarcely explored, largely-impassable continent of Africa, and all around the globe, bringing home movies of exotic lands, animals, and people.
Bringing the extraordinary sights of the world into the lives of ordinary folks, their movies capitvated everyone in America, and enriched Americans' appreciation of nature and humanity, near and far.
A generation later, the Johnsons' aviation-assisted adventure style of educational entertainment would be copied by popular TV "nature" shows -- like Marlin Perkins' "Wild Kingdom," Jacques Cousteau's "Undersea World," the PBS series "Animal Kingdom," and National Geographic Specials -- firing a global passion for the preservation of exotic cultures, wildlife and the environment.

---

WORLD WAR II

When, in the late 1930s and 1940s, the globe was consumed with World War II -- the biggest single event in human history -- Kansas played a leading role.

In what came to be known famously as "the Battle of Kansas," over 100,000 workers -- laboring around-the-clock, for four years, in a host of Kansas aircraft factories and subcontractor shops, from Wichita to Hutchinson to Salina to Kansas City -- turned out over 20,000 aircraft for the war.

Every day and night, Kansas men and women worked long hours, churning out trainers, light transports, invasion gliders, target drones, medium bombers and the war's biggest bomber, the Boeing B-29 Superfortress -- plus the powerful engines for most of the Army's fighter planes.

In all, Kansas produced one out of every nine U.S. aircraft during the war -- and many hundreds more for our Allies.

Throughout the state, farmland was turned into flying fields, as 18 huge military airfields sprang up across the Kansas prairie -- training thousands of U.S. pilots in everything flyable: from primary trainers to patrol craft, and front-line fighters to heavy bombers.

---

POSTWAR PROGRESS

The explosive growth of Kansas aviation during World War II left Kansas rich with an extraordinarily advanced, expanded aviation industry, and aviation infrastructure, for the postwar generation.

After the war, many of the wartime Kansas air bases became large public airports, giving Kansas an aviation edge over many other states.

And other wartime airfields grew into major Air Force Bases and Naval Air Stations, training pilots for the Korean War, the Cold War and the Vietnam War, in jet fighters and bombers -- many built in Kansas aircraft factories.

Following the war, and armed with a newly empowered industry (largely built at the nation's expense), Kansas became the WORLD's dominant force in the design and/or manufacturing of:

light aircraft

(Cessna, Beech, Mooney, Culver, Alon, Helio, RANS & more)
business & luxury aircraft

(Cessna, Beech/Hawker & Learjet)
light commuter airliners

(Cessna & Beech)
jetliner bodies & sections

<!> (building most of the Boeing 737 & 757, and major sections of all other Boeing jetliners.)
heavy jet bombers

<!> (Boeing B-47 Stratojet
& B-52 Stratofortress)
military light transports

<!> (Cessna, Beech, Learjet & Helio)
military light observation planes & light spyplanes

<!> (Cessna, Beech & Boeing)
military trainers

<!> (Cessna & Beech)
civilian trainers

<!> (Cessna, Beech & Alon)
cropdusters

<!> (Cessna)
seaplanes

<!> (Cessna & Beech floatplanes)
utility aircraft / bushplanes

<!> (Cessna, Beech, Helio & RANS)
sport aircraft & stuntplanes

<!> (Cessna, Beech, Great Lakes, RANS, Belite, Powrachute & more)
kitplanes

<!> (Bede, Prescott, RANS & Belite)

<!>

...and Kansas played (and continues to play) a noteworthy role in the design, development, manufacture and/or modification of most other aircraft types -- including ultralights, homebuilts, helicopters, spyplanes & drones, jet flghters & attack aircraft, cargo planes, large commercial turboprops & regional jetliners, and the biggest jumbo-jets (Boeing 747 sections, and the Airbus A380's wing design).
---
LEGENDS - KANSAS AVIATION PEOPLE
Kansas aviation history is more than aircraft -- it is PEOPLE. Along with the most-experienced aircraft-manufacturing workforce in America -- building hundreds of thousands of aircraft since 1911 --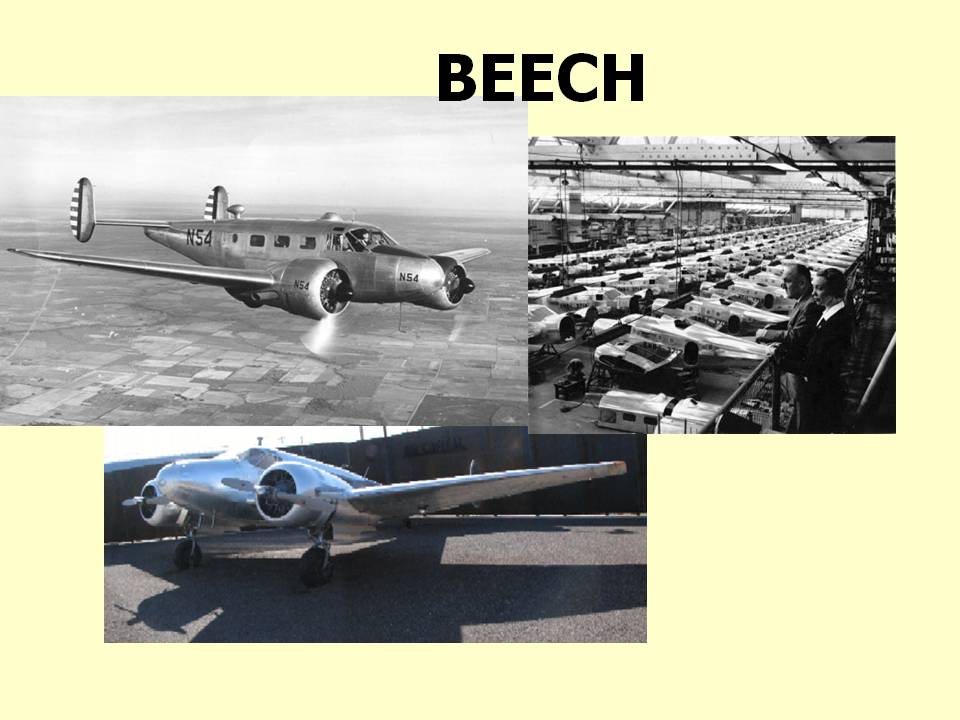 Kansas aviation has produced global icons, daring pioneers, pivotal inventors and technical geniuses, military heroes and legendary test pilots.

Current and former Kansans have been key aviation industrial leaders, presiding over almost every major American aviation manufacturer, including former presidents of all 3 of today's surviving major U.S. aircraft manufacturers:

Boeing,
Lockheed-Martin,
and
Northrop-Grumman.

Modern-day Kansas aviation leaders have included names like:
Bill Lear -- aviation/automotive electronics pioneer, whose "Lear Jet" revolutionized business aviation, and whose "LearLiner" reshaped commercial airlines as the Bombardier/Canadair Regional Jet.

Al Mooney -- who was a key developer of advanced general aviation aircraft, from the early days, into the 1950s. He started the popular Mooney Aircraft line of fast, efficient light planes, founded in Wichita (now based in Kerrville, Texas).

Jim Bede -- who started the popular Grumman-American lightplane line in Ohio, then pioneered the "kitplane" movement in Newton, Kansas with his famous tiny BD-5. Among Bede's Kansas employees was a promising young engineer, Burt Rutan:

Burt Rutan -- modern "carbon-fiber composite" aircraft design pioneer, co-designer and prototype developer of America's first certified all-composite aircraft -- the Wichita-manufactured Beech Starship (right).
From his base in Mojave, California, and later from the Salina, Kansas airport, Rutan's long-wing, long-range planes made the first non-stop unrefueled round-the-world flights, and his SpaceShip One became the first private spacecraft to carry a man into space and back.

Ed King and the "Garmin" guys, pioneering geniuses of the "avionics" (aviation electronics) industry -- whose innovative and efficient aircraft electronics provide communications and guidance to more civilian aircraft than any other brands.
&nbsp Taking their technology a step further, Garmin has become the world leader in satellite-based GPS navigation technology for almost every major application -- from dash-mounted car navigation consoles to portable hand-held GPS units for soldiers and hikers.

The President of the United States who created the FAA and NASA, was the U.S. military hero and self-proclaimed "Kansan" Dwight D. Eisenhower. America's first pilot-President, it was "Ike" who made flying -- in helicopters, light planes and jetliners -- a regular practice for American Presidents, accelerating the productivity of the Presidency, and expanding the global influence of the United States.
And Kansas has given birth to the lives or aviation careers of many of
America's most famous pioneer aviators, airline and military legends, test pilots and astronauts -- from...
Charles Lindbergh
(who began his aviation career in Bird City)
to
Amelia Earhart
(raised in Atchison),
to
America's "First Jet Ace," Col. James Jabara
(raised in Wichita),
to
U.S. stunt-flying superstar Harold Krier (of Ashland. Revived aerobatics as a competitive sport in the U.S., becoming 3-time U.S. Champion)
to
legendary test pilot "Tex" Johnston, (of Admire/Emporia/Wichita. Flew the supersonic X-1, chief test pilot, Boeing-Wichita, and later, as Boeing's chief test pilot in Seattle, barrel-rolled the first Boeing 707.)
to
Clay Lacy -- United Airlines' senior pilot, champion air-racer, top movie stunt-pilot, and renowned, trend-setting aviation-industry innovator and guru,
to
first Space Shuttle commander Joe Engle,
and
many, MANY more.
---
KANSAS AVIATION TODAY
Over 50 companies have manufactured aircraft in Kansas -- and countless enterprising individuals have built their own.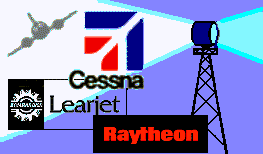 In all, over a quarter-million aircraft have been built and flown in Kansas since Longren's first, 100 years ago.
Today, Kansas is home to Cessna, Hawker-Beechcraft, the Learjet Division of Bombardier Aerospace, the ultralight and kitplane makers RANS and Belite, and major facilities of the worlds' 3 leading airliner manufacturers: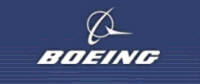 Boeing (Military Conversion Center, & airliner subassembly factory operated by Spirit Aerosystems);

and

Bombardier (Fight Test Center);

and

Airbus (North American Engineering Center).


---

---
CREATING THE WORLD'S AVIATORS,
AVIATION LEADERS & INNOVATORS
Kansas is a major center of aviation training as well, past and present.
From Albin Longren's early students before World War I (including Phillip Billard, who would go on to instruct Allied pilots in France in World War I), to Clyde Cessna's early students, Kansas was an early place to learn to fly.
Not only has Kansas produced the world's most popular flight-training airplanes (particularly the widely-used Cessna 150/152 and 172/Skyhawk, and most modern U.S. military trainer planes -- by Beech and Cessna), but Kansas training programs have also attracted tens of thousands of pilots from all over the nation, and the world:
---
MILITARY TRAINING:
Military Air Bases throughout Kansas have been major providers of military flight training ever since World War II.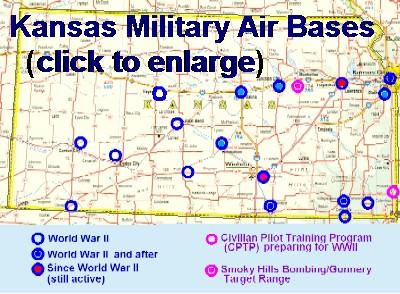 The Civilian Pilot Training Program (CPTP) at Pittsburg trained hundreds of pilots in preparation for World War II. And from World War II to the present day, at air bases throughout Kansas, U.S. military flight training has prepared thosuands of pilots (often in Kansas-built trainers and combat aircraft) -- from basic flight training to commanding jet fighters and bombers.
At former Naval Air Stations in Olathe and Hutchinson, Naval Aviators once trained in aircraft ranging from propeller-driven fighters to long-range patrol bombers.
Some Kansas World War II Army Air Bases -- used to train pilots throughout that war in trainers, fighters and bombers -- survived to become Air Force Bases at Wichita (McConnell AFB), Salina (Schilling AFB), and Topeka (Forbes AFB). Throughout the Korean War, Cold War and Vietnam War, these bases trained airmen in B-47, B-52 and B-1 bombers, and F-105 and F-4 fighter/bombers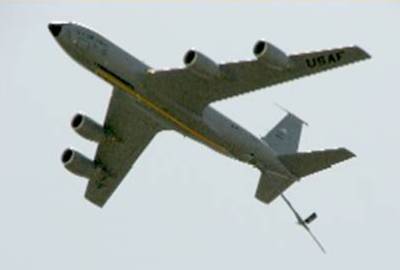 Though the Salina base has since closed, the Air Force Bases in Wichita and Topeka continue to operate Air Force, Air Force Reserve, and Air Guard KC-135 jet tankers, with continuous training day in and day out -- preparing for dispatch to trouble spots around the globe.
(Early tanker planes had difficulty refueling fast-moving jets with the hoses they dangled, which whipped about uncontrollably at jet speeds, making inflight jet-refueling difficult and dangerous. The solution: a rigid "flying boom," steered by a crewman on the tanker, to connect with the jet planes being refueled (see photo above) It was developed at Wichita's McConnell Air Force Base, giving U.S. jet airpower a truly global reach).
The Smoky Hills Weapons Range, near Salina in north-central Kansas, remains one of the world's largest aircraft target ranges, used by all U.S. Armed Forces, and many U.S. allies who fly here from throughout the world, to prepare for actual combat.
---

CIVILIAN TRAINING & EDUCATION, & AEROSPACE RESEARCH:
TWA -- based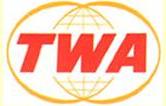 at Kansas City from the 1920s to the 1980s -- provided airline pilot training for hundreds of new and experienced pilots, becoming one of the world's leading sources of airline captains.
Wichita continues, as it has for decades, as one of the world's busiest pilot and aircraft mechanic training centers. Here, tens of thousands of pilots, from throughout the world, are taught how to fly their globally popular Wichita-built airplanes -- from single-engine propeller planes to the world's fastest civiilan jet aircraft --

particularly at FlightSafety International's major multi-million-dollar training centers spread throughout the city. FSI's facilities include over a dozen huge, full-motion flight-simulators for pilot training.
And their mechanics have trained here, too. FSI's Maintenance Training Centers include state-of-the-art equipment, and actual aircraft for mechanics to practice with. And at Jabara Airport, in northeast Wichita, the National Center for Aviation Training (NCAT) is the latest in a string of Wichita-area mechanical and technical aviation trade schools dating back to the 1920s.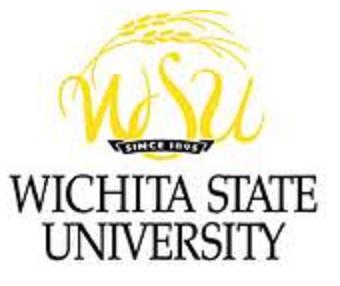 Wichita State University, today, continues one of America's first aeronautical engineering programs -- using wind tunnels that date to the 1930s, and modern supersonic test facilities. WSU is one of the select few American universities to offer Ph.D. programs in aeronautical, electrical, mechanical and industrial engineering, backed by local internships in the industry.

Next-door, a federally-funded "FAA Center of Excellence" the National Institute for Aviation Research (NIAR), which shares WSU facilities, is one of the nation's top centers for modern aerospace technology development and aircraft-manufacturing research.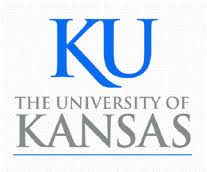 The University of Kansas, in Lawrence, is one of the nation's leaders in aeronautical engineering research (also offering Ph.D.s in the field).

In Salina, Kansas State University's big Aviation Training Center in Salina -- and Hesston College in Hesston -- provide college-degreed flight training and technical training programs for professional pilots and mechanics.
In 1992, K-State's faculty and students, at the Salina airport, supplied the ground crew and technical support for the first-ever, non-stop, unrefueled, round-the-world solo airplane flight. Starting and ending at the Salina airport, pilot Steve Fossett circled the globe in the Virgin Atlantic Global Flyer -- designed by former Kansan Burt Rutan (who later went on to launch the first private manned spacecraft: SpaceShip One).
And, today, as for nearly a hundred years, dozens of small aircraft flight service operators offer basic and advanced flight instruction all across the Kansas plains -- mostly in Kansas planes.
---
KANSAS AVIATION INDUSTRY NOW
Kansas has developed an industry that includes over 150 airports, various military air bases, a dozen aircraft factories and hundreds of aerospace subcontractors spread throughout the state -- supplying the entire world with leading aircraft, essential aircraft parts, state-of-the-art avionics and instruments, and trusted technical expertise.
And Kansas has spawned an entire workforce of tens of thousands of dedicated and enduring craftsmen and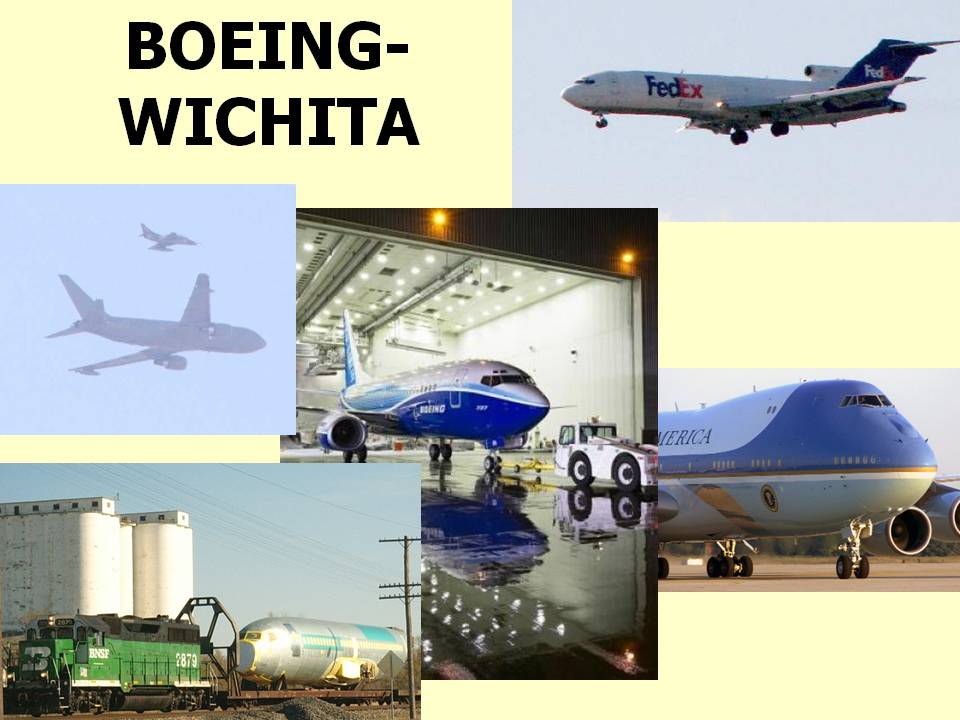 skilled laborers, technicians and pilots, and aviation industry executives, firmly committed to building, maintaining, operating and managing the aircraft that the world relys upon. Working together, they make aviation the 2nd largest industry in Kansas, after agriculture -- making Kansas one of the most globally recognized and respected leaders of the aviation industry.
Here, the very cutting edge of aviation is crafted.
From efficiency-boosting winglets, to space-age "glass cockpit" instrument panels, to trend-setting light, stout composite-shell aircraft, the trends are tried and proven here, first -- emerging on Kansas aircraft that set the pace for the world.
Every minute, of every day, Kansas-connected aircraft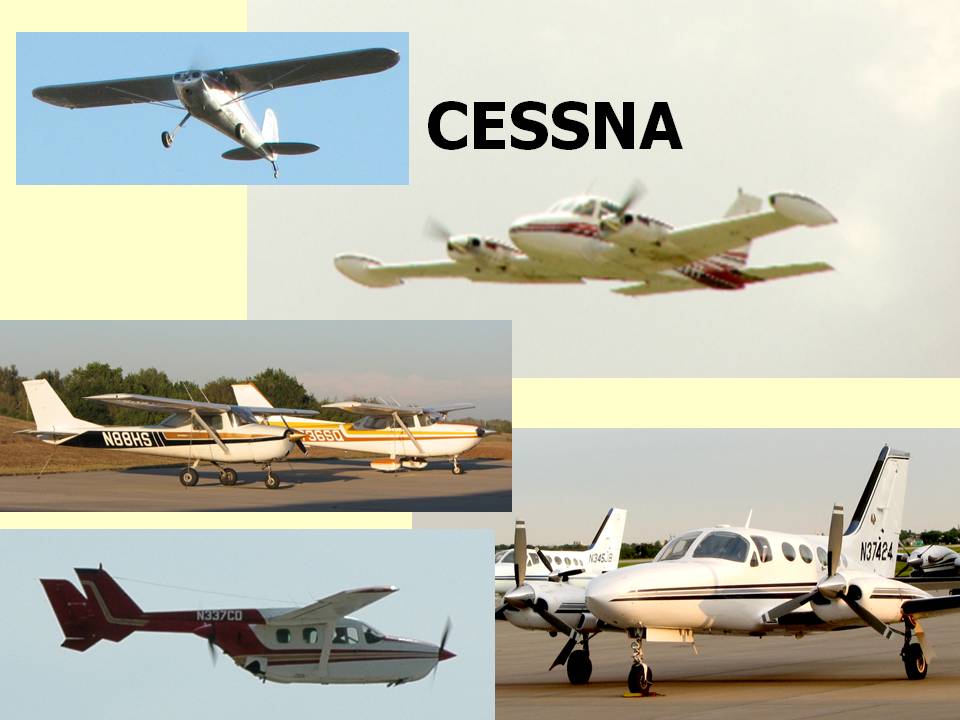 are at work on every continent around the world. Kansas-bred and Kansas-trained aviators and technicians are there, too.
From pioneering engineers, to savvy industry leaders, to pathfinding aviators, to astronauts in space, Kansas has produced and shaped the people who shape the future of flight.
---
The world flys in
more aircraft,
in more
places,
because
of Kansas,
than because of any other state
in the nation.
---
For more details, topics and stories on Kansas Aviation, past and present, see this website's "RESOURCES" and "LINKS" pages.
Join us in celebrating
a Century of Kansas Aviation!